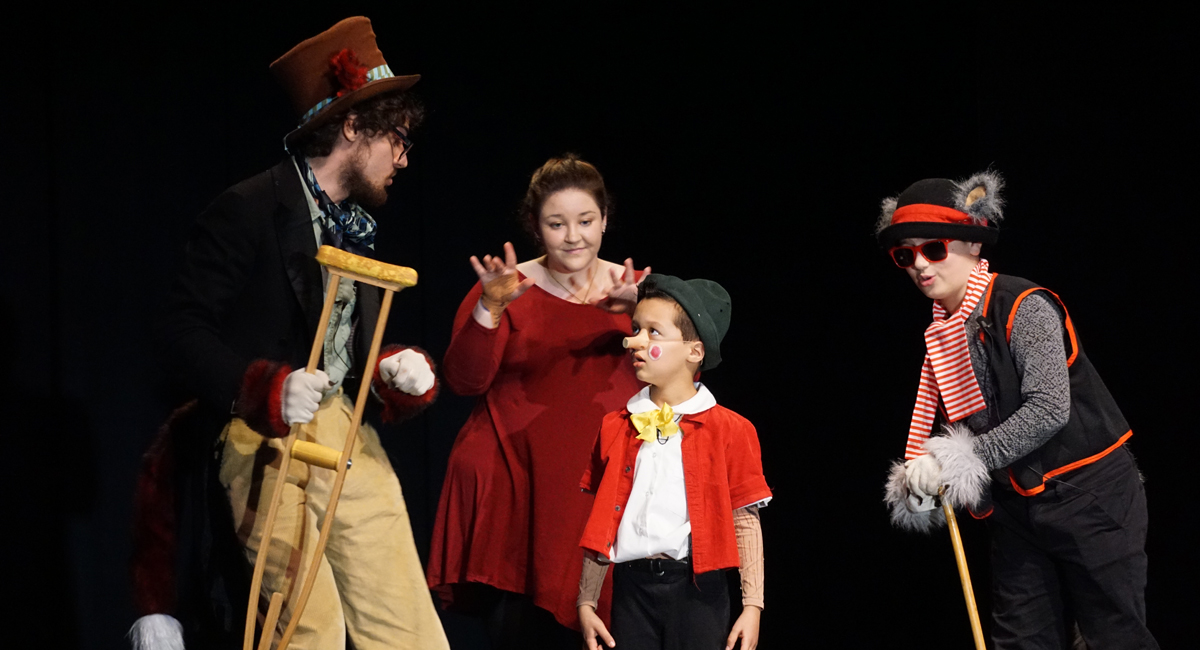 Behind the Curtain: Inside Look at GEAR's "Pinocchio"
By Sara Porcaro | May 10, 2018
Photo credit: Anne Peters
The quick peek at GEAR (Give Everyone A Role) Productions'
Pinocchio
revealed talented actors in beautiful costumes on the South Kingstown High School stage. But with such a spectacular performance comes a tremendous amount of work--from planning and casting to standing on stage for the final song. This season's play is just the most recent example of the fantastic work GEAR does, and a closer look reveals how that work is done!
This season's decision for
Pinocchio
came about from GEAR's previous show,
Dig In
--a story where a cave scene had beautiful blacklight technology bringing it to life. With the blacklight's success in
Dig In
, GEAR looked for a place to use it again, which they found in Carlo Collodi's original 19th century "Pinocchio" tales.
"Long before Disney's version, 'Pinocchio' was actually an Italian serial for children," explains GEAR Artistic Director, Beth Hettrick Berry, "and in one story, Pinocchio is eaten by a shark. We decided we could use the blacklight materials for the underwater scene."
With the show chosen, casting began, and eighty-one members soon joined the team for this season's production. The cast ranged from children under ten years old to senior citizens, all playing crucial parts on stage. From January to April, this incredible cast practiced their roles at the Wakefield Baptist Church, who lent the space for free. Each performer attended practice once a week, at a time that worked with their busy schedule. This allowed the cast to perfect each and every role.
After casting, GEAR set off to work, gathering funds to create a magical performance. In particular, the Rhode Island State Council on the Arts responded to GEAR's grant proposal, awarding 3,000 dollars for the troupe's All Abilities performance. Some money gathered from last year's Octobervest Fundraiser also went towards
Pinocchio
, and the troupe made great use of costumes and sets from previous shows, effectively budgeting the money without sacrificing beautiful presentation.
"We have volunteers gathering materials and making any new costumes we need, but we also want to make use of what we already have," says Berry. "That way, everyone gets a good costume for the roles they work so hard on."
Along with the cast comes a volunteer crew that make the performance transition smoothly. As well, professional musicians and technicians are in charge of the score, sound, lighting, video, and more. All comes together for a show open to all audiences--from parents and friends of cast members to those from other schools or anywhere in the local community. American Sign Language interpreters are on stage for Deaf and Hard of Hearing audiences, showing GEAR's commitment to making every show a great time for everyone.
And you can see videos of their past school performances at
gearproductions.org
, as well as learn more about their All Abilities program! GEAR also has a
Facebook page
, where casting calls for future shows and other events are available. Check it out to support this fantastic troupe and all their amazing work! Thanks again, GEAR, for a great show!
---
---