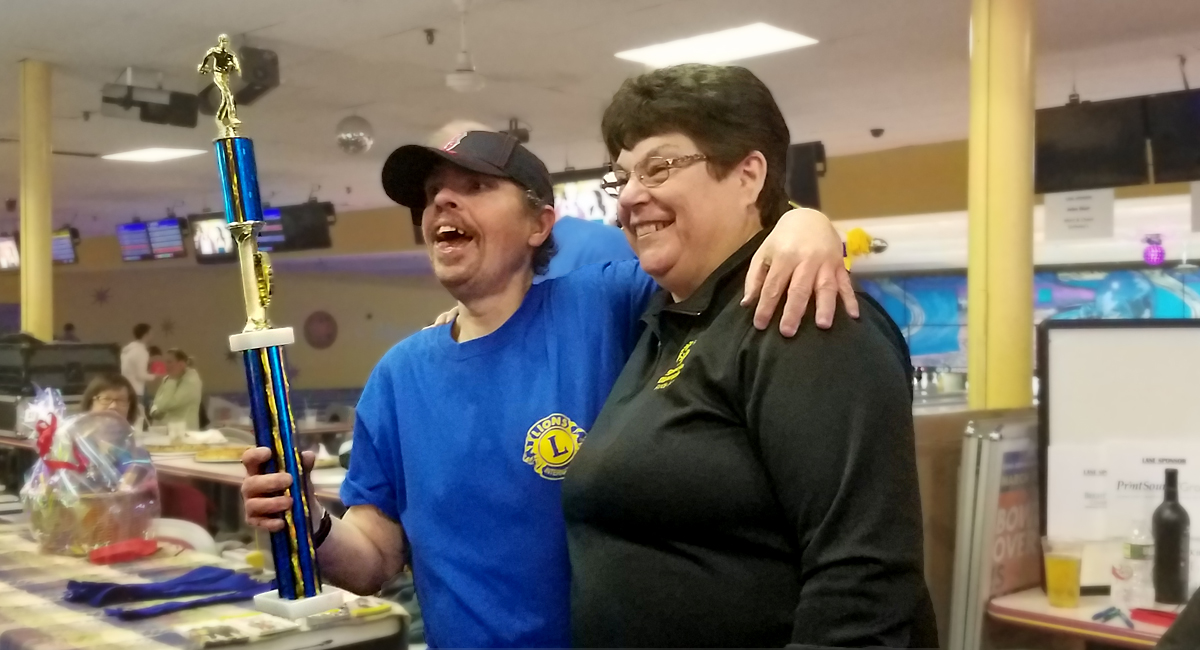 Lions in the Lanes: Scott Honored at Lions Bowl-A-Thon
By Sara Porcaro | March 8, 2018
A sea of blue shirts surges around the bowling alley of Old Mountain Lanes, all aiming shots down polished lanes and erupting into cheers as the pins clatter down. The blue is lighter in certain places, as members and sponsors from the Westerly Community Credit Union take part in the festivities of the Bowl-a-thon, but the dark blue belongs to the hosts of this event--the Chariho Centennial Lions Club--with Bowl-a-thon Captain Scott Edwards leading his team.

The Lions Clubs International, a worldwide organization dedicated to helping those in need through volunteerism, fundraising, and other community service, has chapters all over Rhode Island--the Chariho Centennial Lions being a new chapter that officially attained club status in 2017. Scott, after Perspectives Corporation Activities Supervisor Joni Lonczak's recommendation, sat in on a meeting and decided that this was the perfect place to put his energy and goodwill. He became an inducted member in April of 2017.

Since then, Scott has consistently given 100% as a Lions member, and chapter president Mark Mahoney agrees: "Scott comes to every meeting, and he makes every event he goes to a great time for everyone."

This Bowl-a-thon, a fundraiser for the Centennial Lions Scholarship Fund to be awarded to a community-oriented, hard working senior in the Charlestown, Richmond, and Hopkinton area, was Scott's idea. Thanks to Scott's enthusiasm and efforts, the sixty Bowl-a-thon tickets were sold out in no time. The Lions acquired pizza donations and lane sponsors, and they hosted a raffle with many great prizes.

"Scott started this Bowl-a-thon," says Mahoney, "and it turned into a huge event. It's a big success."

Lonczak agrees. "[The Bowl-a-thon] is his baby," she says, "and he did a lot of the promotions for it. He got tickets to a lot of people."

It's no wonder where Scott got the inspiration for this event from; he's a huge fan of bowling, and so are many others--a recipe for a great event. Along with bowling, he also enjoys listening to country music, and helping out at other Lions fundraisers.

"I'm very happy to be a part of [the Chariho Centennial Lions]," Scott says, "and I think I do a good job there."

Indeed, he does. By the end of the event, Scott won a beautiful trophy for being the Most Valuable Bowler, presented to him by Mahoney. For all his hard work in making the event a success, this was just one of Scott's many places to shine among his fellow Lions. A round of applause for Scott is well-deserved!

If you want to join the Lions and give back to the community with superstars like Scott, reach out to President Mark Mahoney at (401)-263-2449! Whether it's joining the Chariho chapter or getting connected to a different Lions chapter near you, pick up the phone and find out today!

---
---