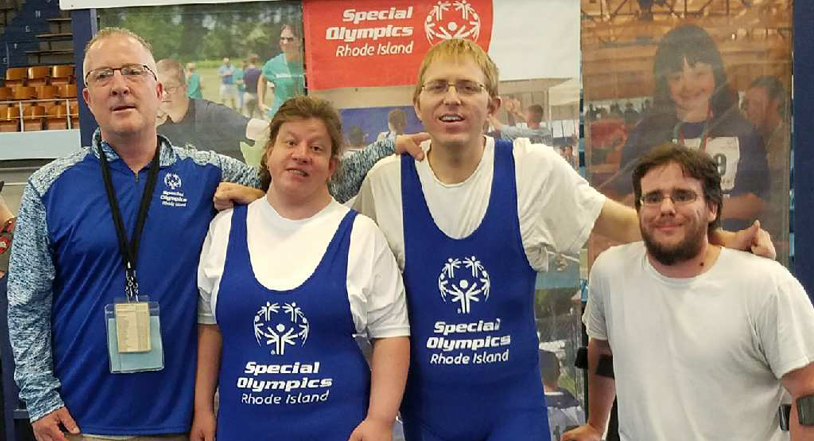 East Coast Meets West: Andy to Compete in Special Olympics Nationals
By Sara Porcaro | June 12, 2018
The storm of activity at the University of Rhode Island saw Rhode Island's fiercest competitors out on the field and in the gym. Food, fun, and many medals were enjoyed and won by thousands of individuals, both competitors and supporters alike. But one spot of the URI campus, the Keaney Gym, saw more than victory: it saw the breaking of yet another deadlifting record, and the solidifying of Andrew (Andy) Tabachini's place in this year's National Special Olympics Games in early July!

In 2012, Andy began his Special Olympics career. He started training with the North Kingstown Special Olympics team, coached by Lisa McKay--an incredibly supportive and well-established team. Last year, Andy was nominated to join the National Team, and McKay drew his name from other nominees, winning him a chance to compete in Seattle, Washington this summer--after one hard year of training with National Special Olympics coach Joseph Patrick.

"I'm extremely honored to be chosen for the National Games," says Andy. "It's an experience of a lifetime for my family and I. I've never been to Seattle, and I'm really looking forward to it."

Since September of last year, Andy has been preparing for the summer weightlifting competition, dedicating an hour each day to carefully building his strength over time. This year, he had a tough record to beat: 418 pounds, a record he set himself in last year's weightlifting competition. In fact, he broke the state record in 2015, then bested himself each year after--going from lifting 407 pounds to this year's 418.9, and earning him the gold medal in deadlifting, as well as a silver medal in the bench press.

"Andy's amazing to coach and really wants to succeed," notes Coach Patrick. "And the thing about the National team is that getting here isn't just about getting medals: it's about being a good teammate, about really dedicating yourself to improvement. Andy's got all of that."

Along with competing in powerlifting, Andy also participates in a variety of other sports at the state level: from sailing to soccer, track to volleyball, Andy is a true seasonal athlete, training and competing year-round. His girlfriend, Kelsey, is also a powerful competitor in several Special Olympics sports, and she's joining him in the National Games for track.

When not competing in the games, Andy will have the chance to explore what the west coast has to offer. He's especially excited to see the famous Seattle landmark, the Space Needle. And with his performance at the Rhode Island competition, he's very confident that he'll be able to rock the National Games. Coach Patrick, too, is nothing but sure of Andy's abilities.

"I'm positive he'll be one of the elite athletes," says Patrick. "I've got high hopes for him."

With only two weeks left to the competition, we know Andy's training hard and preparing to show Seattle what kind of power the east coast packs. We wish him the best of luck, along with our other awesome Rhode Island athletes!
---
---