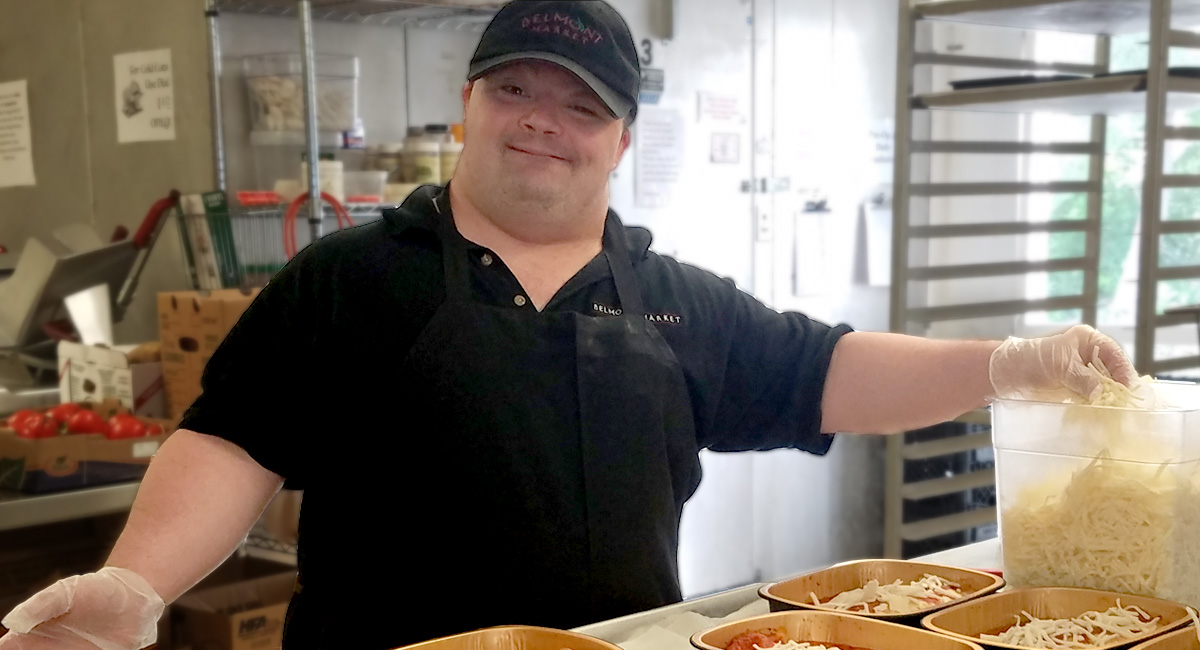 Home Cooking to Professional Cuisine: Brendan at Belmont Market
By Sara Porcaro | July 24, 2018
There's a certain pride that comes with making a home-cooked meal. Watching ingredients come together into a delicious dish and seeing friends and family enjoy your hard work is its own reward even before the first bite! But some people have the joy of cooking as a career, working behind the scenes to bring fresh food to the community--people like Brendan, who has been hard at work at Belmont Market's Italian section!

Since this April, after a very successful interview and a meeting with the head chef, Brendan has been working in the Belmont kitchens three days a week, making meatballs, lasagna, and other classic Italian foods for customers to purchase. As a fan of Italian cuisine himself, and someone who loves to cook for himself and others, a place in the kitchens among other talented staff was a great place to put his skills on display.

"My favorite thing to make is the meatballs," says Brendan. "I make them from scratch; we measure everything and shape the meatballs by hand. It's fun!"

With each shift starting bright and early, Brendan is eager to begin his day, enjoying the quiet, focused mornings. In the kitchen, he goes from task to task with utmost confidence, following his supervisor Abby's directions to make sure every dish comes out just right. And when he isn't cooking, he's cleaning--making sure that the kitchen's tools are ready for the day's tasks and that his coworkers have what they need to keep the kitchen a success.

Abby beams as she says, "Brendan's doing great here. He's gotten more independent as he's worked with us, and he gets along great with everyone."

Direct Support Professional Susan Case, who supports Brendan at Belmont, agrees: "He's doing awesome, and he works really hard to get things done. Every day, he's able to do more on his own."

With Brendan's easygoing, cheerful manner, it's no surprise that he fits right in with his team. And when he's not working, he's taking the summer sun one day at a time--enjoying days out with friends, walks along the Rhode Island coasts, and time spent relaxing at home. He saves his money for the everyday pleasures and adventures that he loves most, his happiness coming from the accomplishments he's had and the people he shares them with.

Between his adventures outdoors this summer and the fun he has at work, Brendan's days are filled with positivity. He enjoys working in a place where his coworkers are kind, the work is rewarding, and the environment is comfortable.

"I plan to stay here for a while," says Brendan. "It's a good job for sure."

The sunshine is still bright, and the days ahead are ones to look forward to for Brendan. With his time on and off the clock spent working hard and living life to the fullest, and with his awesome confidence in himself,there's no doubt that Brendan will keep up the good work!

---
---
Copyright 2020 © Perspectives Corporation