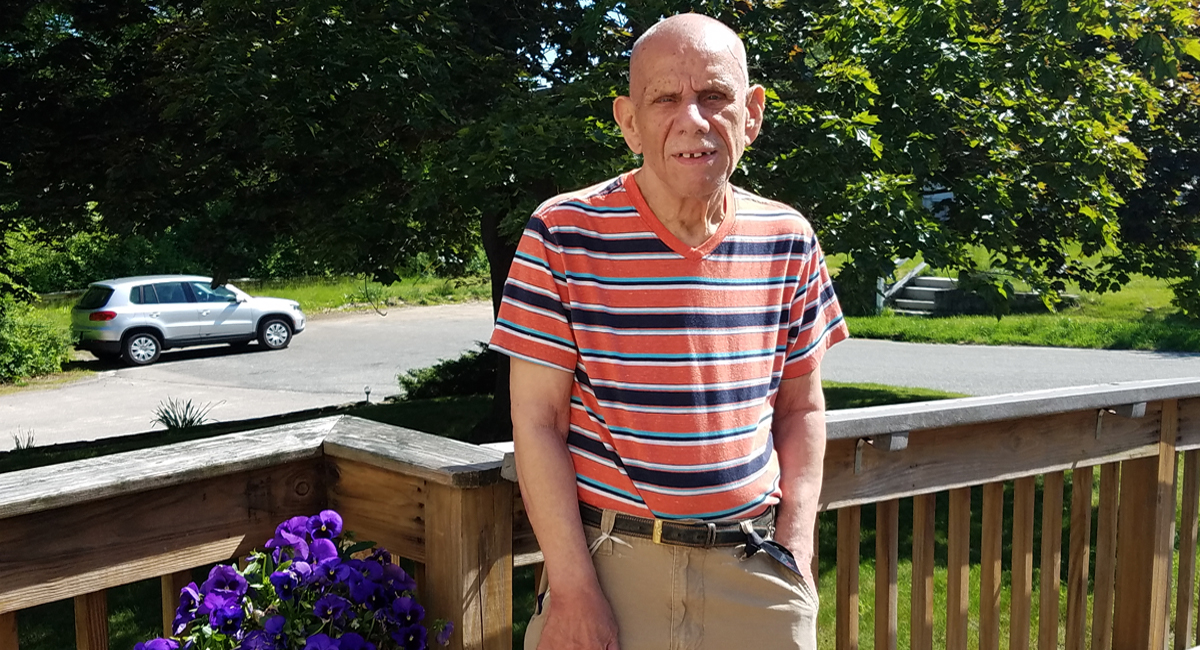 Flying After the Fun: Meet Robert
By Sara Porcaro | July 10, 2018
The afternoon is drifting by outside this house, as it does each day--calm and quiet. Sunshine beams down on purple flowers and leafy shrubs in a neatly trimmed yard, and a cluster of cars sits parked in the long driveway. But upon going up the wooden walkway and stepping inside the house, the noise is explosive: laughter, conversation, excited greetings. And in the middle of all the commotion, making snacks and chatting with everyone, is Robert.

Since 1982, Robert (Bob) has been living in South Kingstown, enjoying life to the fullest and happily looking after his friend Jean, as well as his other housemates. He helps around the house, cleaning and doing laundry with others. In such a cozy place, surrounded by great people and not too far from Rhode Island's coasts, Bob is full of energy, happy to enjoy the sunshine and take advantage of the long, beautiful days.

And home is where Bob has something special: his airplane collection. The planes stay in his room, neat and organized, and showcase not only a love of the free-flying machines, but many years of dedication; Bob's been collecting various types of planes since he was very young. As a result, the planes he collects are both modern and vintage, spanning years of plane models from all eras of the machine's history. He loves each and every piece of his collection: from the small wooden and plastic models, to the remote-controlled planes he enjoys flying at home.

"I can't fly them too many places," says Bob. "I don't want to lose them."

With his love for planes, it's no wonder that Bob fosters an adventurous spirit. In his free time, Bob enjoys number of activities; from skating to kite flying, bowling to sailing, being active and making the most of the warm weather is a must. But his love of fun doesn't stop there; Bob and his friends always look forward to their annual trip to Lake Compounce, where the roller coasters and other rides make for a fantastic day of excitement.

"I don't like the bumpier rides so much," says Bob with a smile, "like that Boulder Dash one. But I love roller coasters."

During the rest of the year, Site Supervisor Heather Peterson has also seen his enthusiasm for a great time: "Bob loves music," she says, "and at a dance, you can find him right next to the D.J."

When he isn't seeking thrills, Bob is active as ever in his community. He enjoys going out on the town and spending time with others, and no matter where he is, he loves lending a helping hand! At the Adeline LaPlante Memorial Center (ALMC) in Wakefield. Bob calls numbers for Bingo, and he loves every minute of it. And when he comes home from his busy days, there's nothing better than sharing a cup of coffee with his friend Jean.

With the summer holidays passing by, Bob is enjoying every moment. Holidays he spends with his sister, who he's always had a strong relationship with, and with other friends. Best of all, with his love for good food and beautiful weather, there's no end to the opportunities for fun get-togethers and awesome experiences this summer! Here's to Bob and friends enjoying another beautiful season!
---
---
Copyright 2020 © Perspectives Corporation