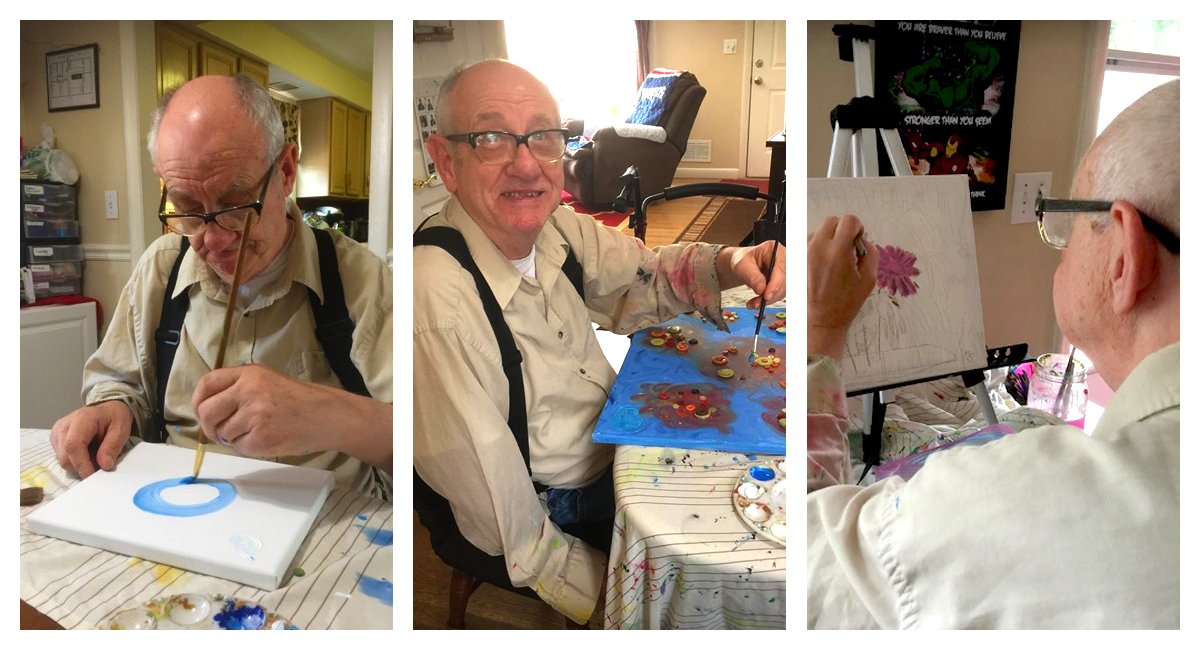 Art for Sale: Milton's Creativity Continues to Bloom
By Sara Porcaro | July 31, 2018
For creative people--be they writers or painters or sculptors--the color white can be a daunting thing. A white canvas, or the white of a blank page, or the shapelessness of pale clay and marble, all hold so many possibilities that to choose any one of them can seem like a choice too big to make. But for a brave artist like Milton Steadman, the canvas is an old friend, a place where his experiences, thoughts, and feelings come together into beautiful new creations.

Milton has brought his art to many different venues, like the Spring Fling hosted by the Knights of Columbus and local cafes like Java Madness to find new homes for his paintings and earn funds to buy more art supplies. Now, Milton and Perspectives Corporation's Direct Support Professional, Elon Catanzaro, are proud to announce the sale and delivery of his works to the South County community! With many paintings currently finished and ready to purchase, there's something special for everyone to enjoy.

But Milton's goal isn't only art supply funds; it's also to have his work on display. "It's been my dream to know others hang up my paintings and enjoy them like I have," Milton notes.

From a very young age, Milton began exploring his creative side, as he and his sister would paint and color together. At first, anything and everything Milton could imagine, he recreated on his canvases--but as a child growing up around the blue waters of Narragansett, where boats of all shapes and sizes rocked in the harbors together, he soon came to fill page after page with sails and sunsets. After years of exploring other subjects, such as birds and abstract ideas, Milton still loves to paint the boats resting in the Atlantic.

"I paint all kinds of things," says Milton, "but the sailboats are always my favorite. I'm really proud of them."

Now, Milton lives with his housemates in North Kingstown, where he's been painting and enjoying his time for nearly ten years. From the paint and markers of his childhood, Milton has come to experiment with different styles, textures, and techniques. Whether it be buttons or feathers, seashells or rhinestones, Milton is never afraid to try different things to bring an idea to life on the canvas.

Whenever the inspiration comes, Milton takes up the brush and creates a new painting. But when he's taking a break from his work, he's out exploring the community and engaging in other projects, too. His garden, which he began early this year, is growing strong under his care, and he's also having a great time fishing, swimming, and enjoying time with friends. In fact, it's the times spent laughing, joking, and going out that he often finds his inspiration--and new materials to use.

"It's not just about the finished product," Milton explains. "It's about painting with friends, getting new rocks or shells, things like that."

It's always a wonderful day to support local artists! If you or someone you know in the South County area is interested in purchasing Milton's art, you can reach out to ecatanzaro@perspectivescorporation.com to learn more and see his works! Prices typically range from $3 to $10, but they are negotiable.
---
---