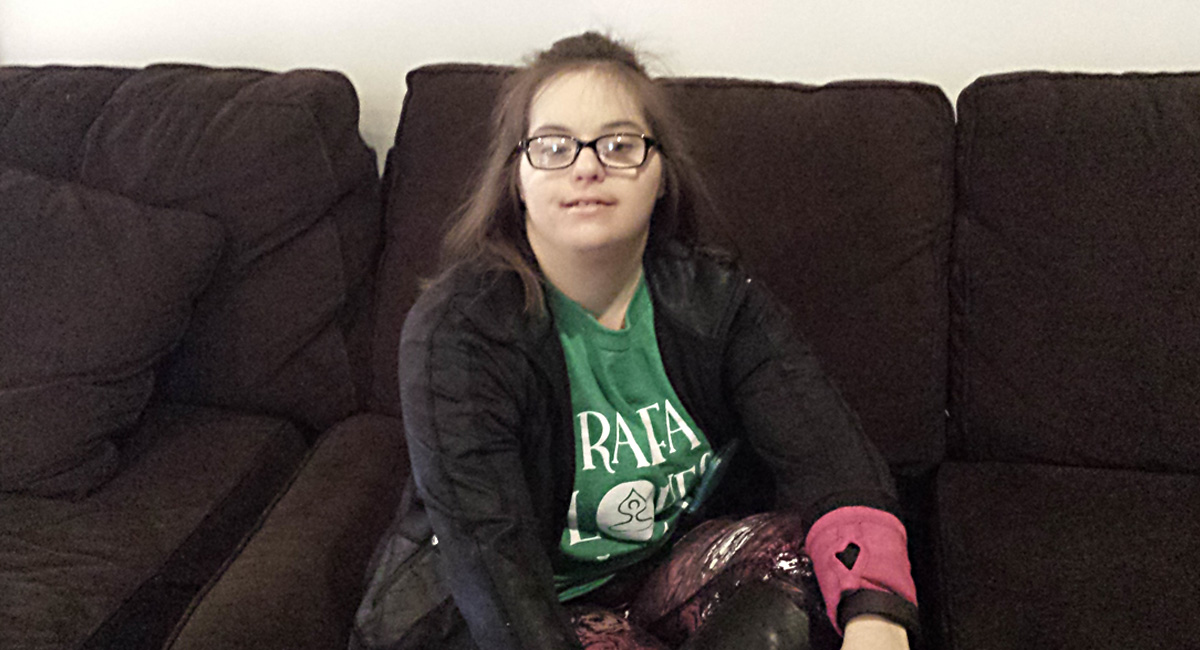 The Beacon of Positivity at Raffa Yoga
By Sara Porcaro | January 25, 2018
Early on a Saturday morning, there's a local yoga studio already brimming with activity. The soothing scent of incense swirls through the studio, and the morning light catches on the bright colors of sweaters, shirts, and spa products--and there, greeting patrons with a smile as bright as the sun itself, is Stephanie.

Since last November, Stephanie has been a positive force on Raffa Yoga's team, assisting the studio by folding laundry, helping in the kitchen, and giving patrons a warm welcome as they come in for yoga classes on the weekends. However, before becoming an employee, she was a long-time patron herself. As a result, when she started her work there, she already had a great relationship with her fellow coworkers.

"I just love [my coworkers]," Stephanie says, beaming. "They're great. We have a lot of fun here."

Beyond her work at the studio, Stephanie spends her free time doing other work--namely, creating handmade party favors, decorations, and other crafts for local craft stores and markets. Her business, Favorables, is a testament to her creativity and ambition, just as her excitement to lend a helping hand at Raffa Yoga is a testament to her outgoing personality and strong work ethic.

And when she's not working either on her crafts or at the studio, she's out having fun with friends and taking care of her health by attending yoga classes herself. Her favorite thing to do with friends is to go out and enjoy a nice meal--Mexican food being a favorite of hers. She also loves listening to country music and relaxing on her time off.

Stephanie's supervisor, Tina, has been nothing but pleased with the warmth, positivity, and hard work that Stephanie brings to Raffa Yoga. She praises Stephanie's enthusiasm to make the studio a brighter place, both for patrons and other employees.

"Stephanie really sets the tone for our patrons' experience here," Tina says, "and on top of the great work she does, she's also a supportive and uplifting member of the team for everyone."

After one leaves the studio, Stephanie's sunshine stays with them. She loves her work and the people she shares it with, and it shows! With her creative skill and positive thinking, nothing can stop her from living each day to the fullest. Congratulations to Stephanie for a job well done!
---
---