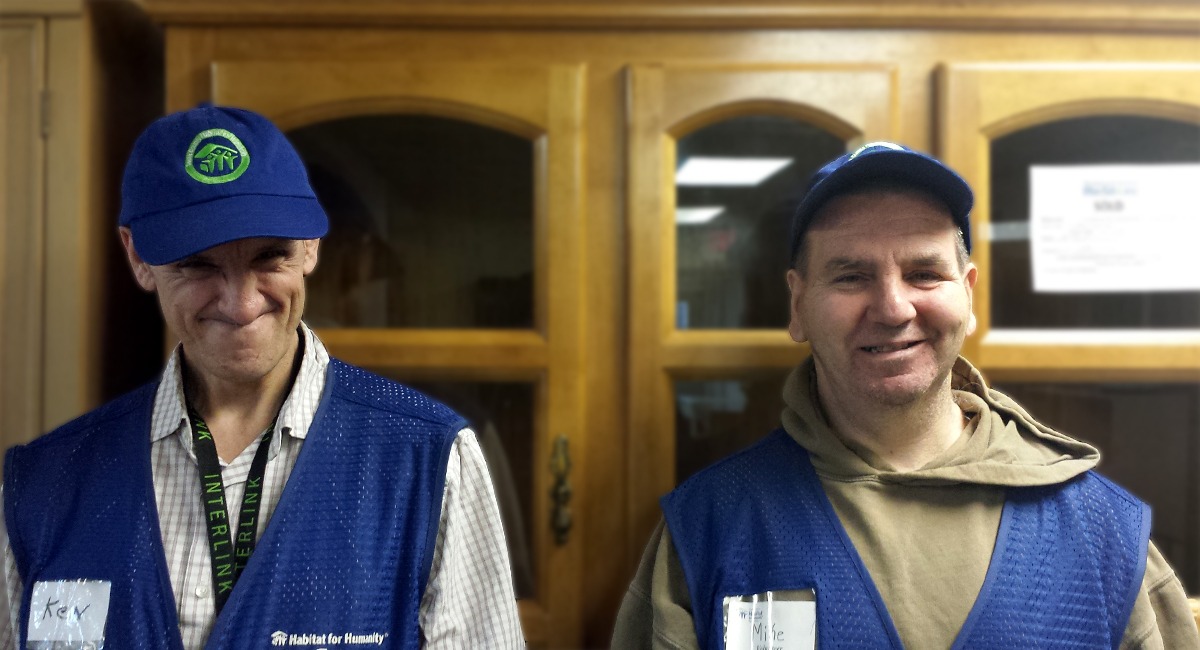 The Devoted Duo at Charlestown's ReStore
By Sara Porcaro | February 22, 2018
On a quiet, misty road in Charlestown, the morning seems to drift by on the endless stretch of pavement we call Route 2. But off this road is the Habitat for Humanity's ReStore, where already, volunteers and patrons weave through the rooms of furniture and materials, working and planning for future projects. And among these productive volunteers, already diving into their busy day, are brothers Mike and Ken.

Since 1990, South County's Habitat for Humanity chapter has been working to provide affordable, comfortable homes to those in need, building each one with the hard work and goodwill of donors and volunteers. The ReStore, opened in 2007, is a place that re-sells donated furniture and building materials, putting all proceeds towards materials for new homes. In their 27 years of service, the South County Habitat for Humanity chapter has built 53 homes and served 64 families.

Mike and Ken are glad to be a part of this humanitarian team, always excited to start their shift weekly shift. For a little over two years now, Mike and Ken have been helping out by keeping the store clean, the furniture oiled, and the heavy purchases lifted and carried for customers.

"They've been great," says supervisor Ethan, "and they're always ready to help with whatever we need when we ask."

Volunteer Coordinator Alicia agrees, noting that "Mike and Ken are super cool and fun to work with,and they're a great addition to the team."

The brothers have their favorite tasks, too; Mike enjoys keeping the store clean and well-maintained for guests, whereas Ken loves to put his strength to good use when it comes to helping get furniture in and out of the ReStore. But while they have their favorites, there's simply not one task that they don't put full enthusiasm into doing.

"There's nothing I don't like," says Mike. Ken agrees, noting that both brothers "want to stay [at the ReStore]" and continue their hard work.

Even when not volunteering, these two put their talents to the test. Mike and Ken both attend weekly rehearsals for the upcoming GEAR productions play, "Pinocchio," and Ken is currently training for weightlifting in the Special Olympics. No matter where they are, they give it their all -- but at the ReStore, they find a permanent place on a team of like-minded volunteers that love to work with them.

There's no such thing as too much help! If you're interested in volunteering for the ReStore, or any other part of Habitats for Humanity, contact Alicia at alicia@southcountyhabitat.org. Reach out today and join volunteer superstars like Ken and Mike to help make a difference in South County!

---
---