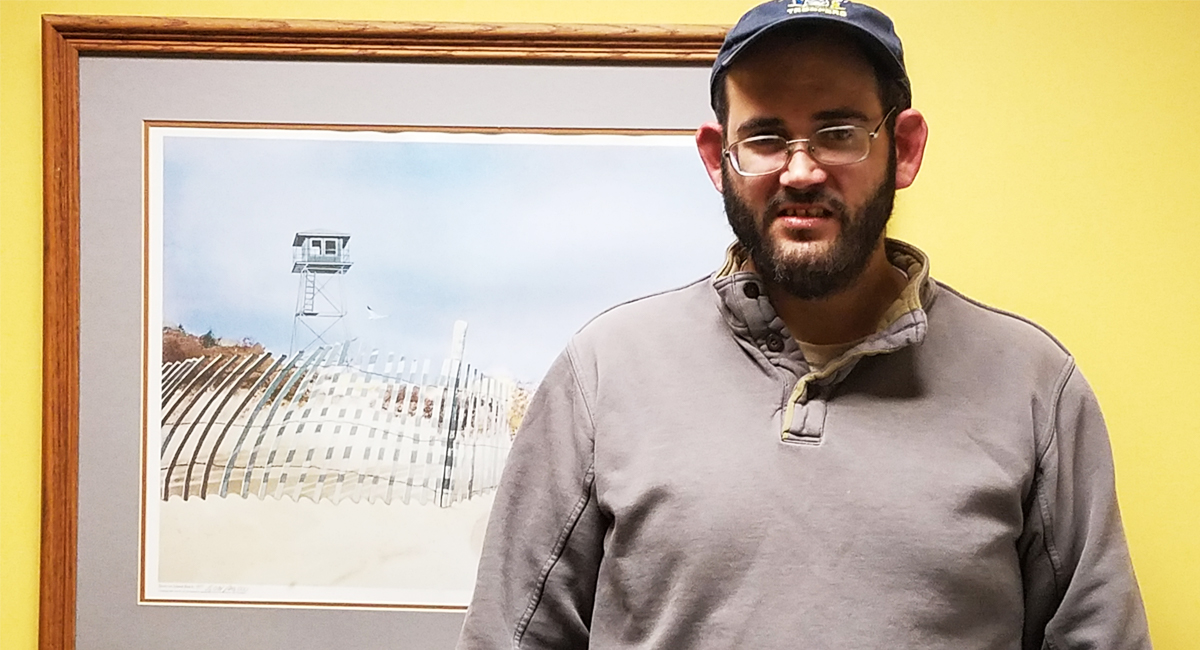 Reaching a New Goal Post: Jacob's Hard Work On and Off the Field
By Sara Porcaro | December 18, 2018
Year round, cleats tear across the grass, basketballs dribble down the courts, and white pins clatter in the bowling alley. Children and adults across America love competing in their favorite sports--whether with friends or in competitive tournaments. But some athletes take their love of sports a step further by donning those striped jerseys, and by becoming coaches themselves--one of those athletes being Jacob!

Many years ago, eight-year-old Jacob started his journey in sports through Special Olympics with duckpin bowling, which has remained one of his favorites over time. As he grew his athletic skills, he also began to branch out into other sports: namely basketball, soccer, softball, ten pin bowling, and track and field. He played with the Special Olympics North Kingstown team through his school career and beyond, taking every opportunity to be active and compete with the friends he made along the way--and in 2008, he even won the Special Olympics RI "Outstanding Athlete of the Year" award for his amazing work on his team!

"When I was in school, there weren't any sports teams," says Jacob, who attended the Sargent Rehabilitation Center. "Back then, I would compete in Special Olympics traditional basketball games throughout the state, including at South Kingstown High School or at the Trudeau Center. I did state tournaments at Providence College, too."

As Jacob got older, he continued to play for North Kingstown; now, he's still a crucial part of the team for Special Olympics tournaments in duck-pin bowling, softball, and track and field. But with his focus shifting away from soccer, Jacob didn't want to step away from one of the games that inspired him; instead, he took a step to the other side of the field and began volunteering as a referee for the weekly games at Wilson Park and the Special Olympics RI State Tournament in Bristol.

Jacob notes, "I was refereeing part time with basketball for a while. I'd play a game, then ref a game. But I didn't want to let go of soccer, so now I referee for Special Olympics Rhode Island adult teams, and I help coach for youth TOPS soccer, too. I love getting to be a part of the community and help the team grow!"

Each Saturday morning, Jacob meets with North Kingstown Head Coach Lisa McKay to coach Special Olympics North Kingstown youth soccer. Together, they help kids bring out the highest performance on the field. When not coaching, Jacob's busy schedule has him keeping weekly duck-pin bowling scores on his computer, which he then uses to produce reports for the coach to further motivate the team and help them improve. As well, Jacob is scorekeeping for South Kingston Recreation and refereeing in basketball games in North Kingstown and tournaments at Providence College.

Jacob's father, Howard, notes that "[Jacob] is doing a very good job as a referee. It was his idea to get into the scorekeeping, coaching, and other sides of sports, and he's always learning new skills from shadowing other referees and attending games. Everyone's been great about teaching him."

With all the great experiences Jacob has had volunteering with his fellow athletes, it's his dream to become a professional with the South Kingstown Recreation department--be it in refereeing, scorekeeping, timekeeping, or a combination. While he's out training in the sports he loves, he's proud to not only reach his peak performance, but to help others reach their peak, too. Congratulations to Jacob for all his amazing work with our Rhode Island athletes--both on and off the field!

---
---