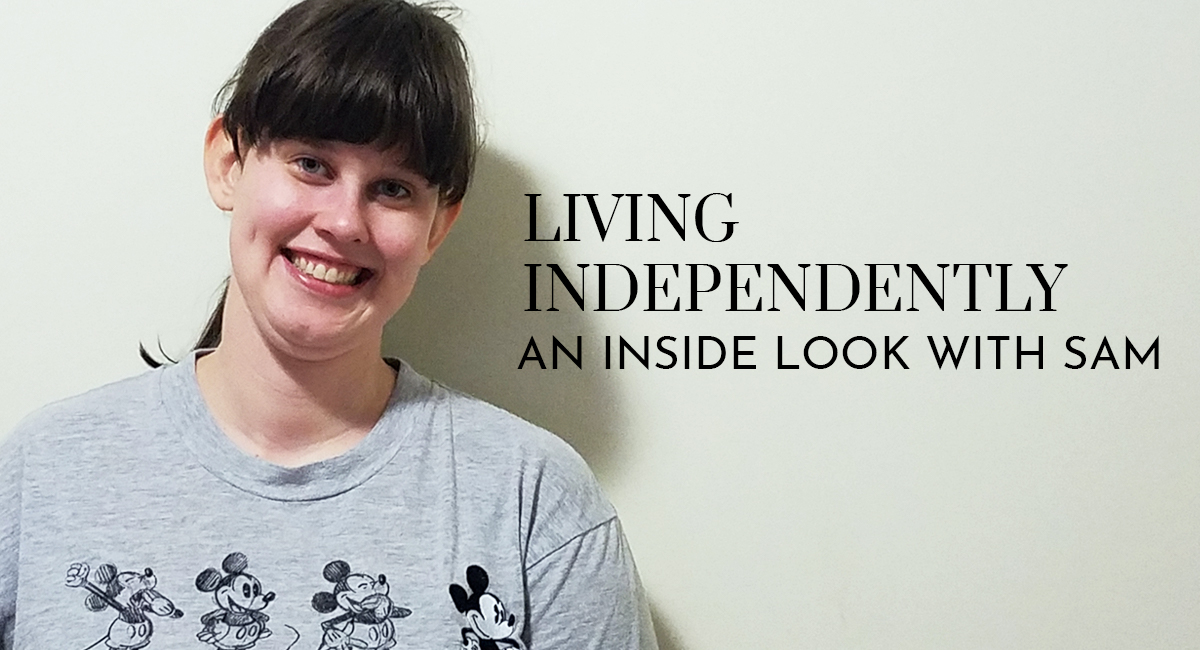 Living Independently: An Inside Look with Sam
By Sara Porcaro | December 4, 2018
After so many years of living with one's family--years of fun, growth, and support from parents and siblings--leaving the nest is an often difficult, but exciting, transition for young adults. It's one that brings forth a whole new set of freedoms, the ability to make the rules and live life exactly as they please--so long as they manage the responsibility that comes with such freedom. But the independence and self-sufficiency that comes with having a home of one's own can't be matched; just ask Sam, who after moving into her apartment, is having a blast!

Since this July, Sam has been living in a cozy apartment down in North Kingstown, where she receives Independent Living services from Perspectives. During the day, Independent Living services provide supports in her everyday living tasks, from doing chores and managing finances to going out into the community and exploring new activities. Currently, she's also learning how to cook new meals for herself and learn new techniques in the kitchen so she can continue to eat healthy meals at home. With the apartment located in her hometown, she's excited to stay in the community she's already come to love.

"I love living here," Sam says. "It's a lot of responsibility, but the freedom is so worth it. I also have lot of neighbors that I've made friends with!"

One of those friends is a young woman named Bailey, who also joins Sam at meetings in the group Rhode Island Self-Advocates Association. After Sam moved into her apartment, she and Bailey soon went from new neighbors to fantastic friends. They enjoy spending time together chatting about their goals, events and activities, and more. Sam also loves to talk to her other neighbors when she gets the chance and has had many wonderful opportunities to become more involved in the apartment complex community.

With how dedicated Sam is to mastering her responsibilities, and how much she enjoys having a whole apartment of her own, it seems she's been living independently for a long time. However, this is Sam's first apartment--and leaving the nest certainly wasn't easy, considering how many pieces of furniture and other items had to make it up to the second floor. But Sam had plenty of help, with friends and family there to assist her in packing and organizing everything, as well as moving it all into her new space.

Sam notes, "It was a lot of work, for sure, and it was very sad for my family, because I'd lived with my parents my whole life. But now it's going great; my parents visit me here, and I visit them, too, and we're getting used to the change."

Now, Sam notes the empty spots on the wall to hang pictures, opportunities for new throw pillows for her couch, and more opportunities exist to make her space that much cozier. She's content to live by herself, for herself--with her own rules and full control over how she spends her day. And with a supportive group of friends and family behind her, we know Sam will continue to thrive in her new home. Way to go, Sam!

---
---