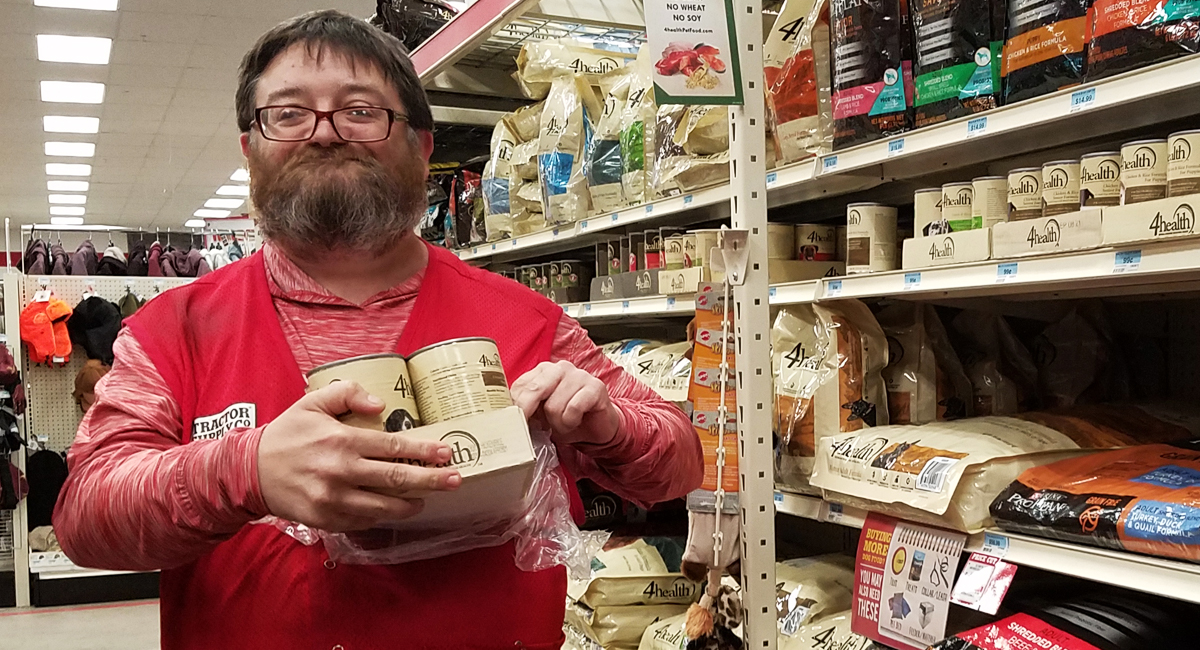 From Then to Now: Carlton's Year in Review
By Sara Porcaro | December 11, 2018
Anniversaries are a time of reflection: from where one started, to how far they've come, and all the opportunities in between for growth and learning. Especially at work, an anniversary is a thing to celebrate, as with anniversary assessments come opportunities for pay raises and promotions--and Carlton, who has been working at North Kingstown's Tractor Supply Co., just celebrated his first anniversary at work with a raise!

Last year, Carlton began his career with Tractor Supply Co. full of enthusiasm, as he'd been searching for a job with a positive work environment and friendly coworkers. That enthusiasm a year later is stronger than ever; Carlton found what he was looking for, and has enjoyed coming into every shift to see his coworkers, his customers, and see that all his duties are finished before he leaves.

"I get along with everyone here. Getting to talk to my coworkers is one of the best parts of the job" says Carlton. "[Tractor Supply Co.] has a good mood around it--good mojo. It's nice being able to work here."

His duties consist of collecting carriages, restocking the shelves, and assisting customers in getting the bigger purchases loaded into their cars when necessary. Carlton does it all with a smile, and the money he earns on the job goes towards his funds for holidays, birthdays, other special occasions, and other items he decides to save up for. With the recent one-year assessment he's had, and the raise he's earned from his hard work, he now earns more to put away for special moments with friends.

Carlton notes on the raise: "It makes me feel like I'm wanted here, like I'm good at my job. I really appreciate it, and I hope to keep working here."

At the store, his coworkers are jovial and easygoing, with no problem asking Carlton for help on their duties or helping him in kind. They joke and have fun while staying focused on the work at hand, further building that happy work environment Carlton loves. His supervisor, Pam, has seen Carlton in action since her arrival at the store in the summer, and has plenty of praise.

"Carlton is very good with everyone," says Pam. "He's polite, helpful, and really tries his best every shift. He's found his niche here, and he does his work very well."

In his free time, Carlton makes sure to unwind by relaxing at home with a good book. He also enjoys playing board and card games with friends and family, as well as going for a walk around the neighborhood while the sun is shining and the weather isn't too cold. For Carlton, being able to come home knowing he's done his job well is a reward all in itself--and the free time he enjoys is that much sweeter as a result!

After one year, Carlton is more committed to his work than ever. At his side are a team of supportive coworkers and supervisors, and with his love of the job itself, he's proud to come in each day and put his best foot forward. Celebrating anniversaries is always exciting, and for Carlton, this anniversary was the perfect way to continue his journey with Tractor Supply Co. Fantastic work, Carlton--you're doing awesome!

---
---
Copyright 2020 © Perspectives Corporation