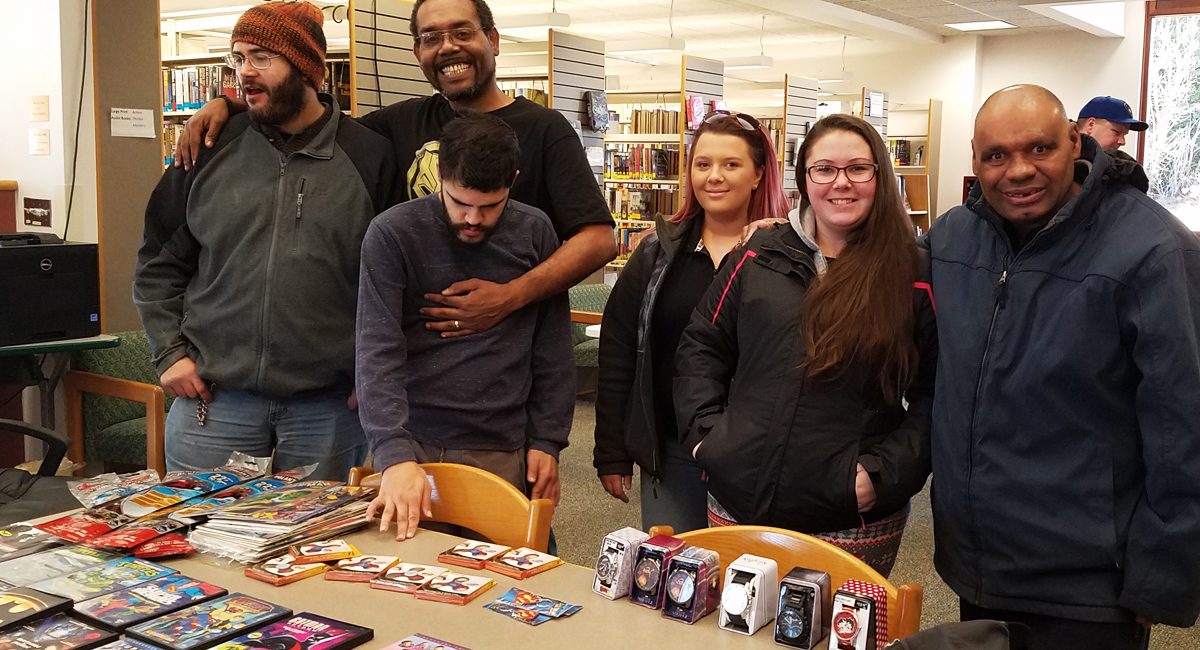 Comics Connecting a Community at Exeter Library
By Sara Porcaro | December 31, 2018
Now more than ever, the box office is loaded with classic superhero favorites. From Marvel's Avengers franchise to DC's Wonderwoman and Aquaman, both long-time fans and younger ones alike have plenty of amazing heroes to see on the silver screen. But just after Christmas last week came another event for parents and kids alike: the Comics for Kids event at Exeter Library, hosted by our friends Jacob, Luke, and Jose!

The inspiration behind Comics for Kids was simple: individuals we support wanted to "[meet and greet] with kids and their families... to introduce [themselves] to each other, promote reading, and begin to build a foundation of an inclusive community together," per the event's flyer. Amy, the library's director, was enthusiastic when Perspectives Direct Support Professional Andy Ming proposed the event, and she shared his flyers about it both on the Exeter Library Facebook page and to other local libraries. As a result, both library regulars and newcomers came to join the event.

"Individuals with disabilities have always come to use the library and been a part of our community," says Amy. "We strive to make this library inclusive for all. But this is the first event where we brought parents, children, and individuals with disabilities together into one event to teach and encourage inclusion--and everyone's loving it. Many people came out specifically for this event, which is great!"

One attendee, who came with her nephew and his friend, says on the Comics for Kids event: "It looked like a really nice free event to get the boys out and doing something creative together, and it was a blast. I also know people who work at Perspectives, so I was excited to hear this was an inclusive event that Perspectives was a part of!"

The hosts had set up tables full of puzzles, coloring sets, and "Make Your Own Superhero" sheets for event attendees to enjoy. Upon entering, children had their pick of movies, vintage and new comic books, and other small items to take home--many of which were donated by The Time Capsule in Cranston and Jazmin's Gifts and Novelties in Warwick. And along with the event's three hosts, our friend Greg made an appearance, as well!

While children worked on puzzles with Jacob, colored with Greg, or made new superheroes together, their parents were happy to see everyone getting along and being creative with one another. Many parents in attendance follow the Exeter Library Facebook page, and that was what brought their attention to this event--though not everyone knew about Perspectives before coming to the library.

"I had no idea what Perspectives was when I saw the flyer," said one mother as her son completed puzzles. "But we have individuals with disabilities in our lives, and I love that the library has an all-inclusive event like this! This would be great to do again." Her son agreed, happily holding up the Pokemon comic and Captain America fidget spinner he'd received.

All in all, the event was a fantastic success--and we have many to thank for it! A great thanks again to Exeter Library for the event space, to our donors for the gifts given to the attendees, and to all who joined the hosts for an afternoon of comic fun and community building. We all have the power to help build a stronger community, and with the success of the Comics for Kids event, we're hoping for many more opportunities to do just that!
---
---