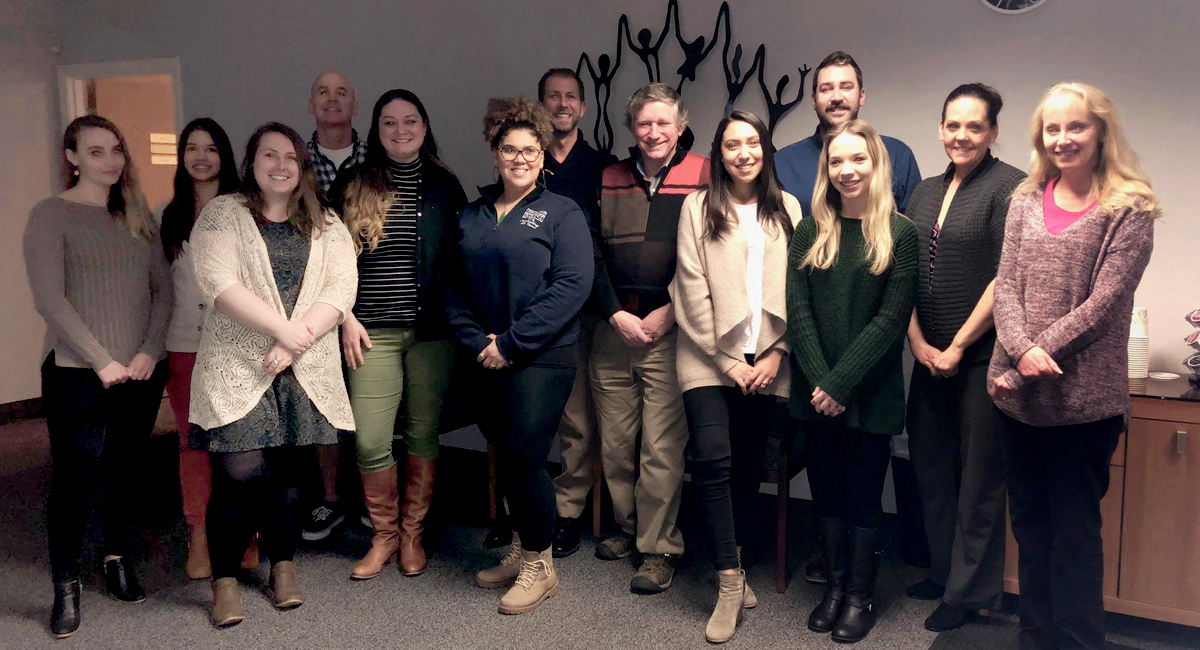 Celebrating Service and Success: Youth and Family Services's Twentieth Anniversary
By Sara Porcaro | April 19, 2018
In 1997, twenty years had passed since the beginning of Perspectives Corporation--twenty years of ever-expanding day, employment, and residential programs for adults, and of increasing numbers of employees dedicated to making each day an adventure for individuals receiving supports. Two decades of such dedication was a cause for celebration for the services that started the agency--and this year, in 2018, we get a chance to celebrate two decades of services again with Perspectives' Youth and Family Services (YFS), which started in 1998!


Starting the New Program


Two years earlier, a new program in Perspectives' Adult Services had started after Executive Director Judy Niedbala realized a need for unique services for individuals between the ages of eighteen and twenty. Transitional School Services (TSS) was a program the agency started to ease the shift from school life to adult life for these individuals, with many dedicated staff working within and without the schools to equip them with essential life skills like banking and applying for jobs.

However, youth services such as HBTS, which were designed by the state of Rhode Island and funded through Medicaid, had not yet been introduced to the agency. TSS was its own program, an innovation of Perspectives--and a beacon of Perspectives' dedication to improving and expanding supports. Still, the the agency's leaders felt that more could be done.

"We recognized a need for more services for youth in Rhode Island," says Senior Director Brenda Verdi. "We wanted to know what other services we could provide to families, so we looked into what else we could do for children across the state."

It was no wonder that in 1997, Niedbala, Verdi, and Clinical Director Robert Kidd finalized Perspectives' first contracts for the new state-sponsored Home Based Theraputic Services (HBTS) program, which kicked off in 1998. HBTS thus became the cornerstone for the entire YFS program--one that brought highly skilled teams of behavioral specialists, treatment coordinators and consultants, and clinical supervisors together with parents and children to create detailed, individualized, and family-centered services. The veteran TSS program also found a more solid place in YFS, acting as the bridge that linked youth and adult worlds and bringing in a new wave of professionals trained to work with children specifically.

Senior Director Sean Cornell notes that "it was our mission to continue to grow the new youth program. We spread out into other areas of expertise and hired many experienced professionals to the team."


Perspectives Goes the Extra Mile


With Senior Director James Simon bringing his expertise in Deaf and Hard of Hearing services in 2003, the YFS program soon had a Deaf and Hard of Hearing specialty for children who spoke or were learning American Sign Language (ASL). The program spanned all ages up to twenty-one, thus providing children with crucial supports in their first language at all stages of development.

In 2007, Perspectives' first YFS residential program also opened through a contract with the Department of Children, Youth, and Families (DCYF), housing young men in a safe and supportive environment, with Senior Director Sean Cornell leading the new Children's Residential Program (CRS). Unlike the other homes established by Perspectives, this house was not one that had already been built; it was built from the ground up, specifically tailored to the needs of youth residents.

"We spent all of 2006 building the house and hiring the staff for the program," says Cornell, "but by February 2007, I and Clinical Director Art Erskine had welcomed the first new residents to their new home."

By 2008, the Personal Assistance Services and Supports program (PASS) also came into being --a program similar to HBTS, with the parents leading the way and a stronger focus on social skill building. This solidified the main corners of YFS that exist today, along with Early Intervention services (EI), Early Intensive Behavioral Intervention services (EIBI), and services for children on the Autism spectrum.

Verdi notes that "it's a great program to work in, and a good opportunity to get experience working with children and families. But most of all, we're proud to provide excellent treatment to families across Rhode Island."

Throughout it all, the spirit of YFS has remained at the core of the program: creating a place where children with disabilities and their families get the services and supports they need to make each day a great one. Over twenty years, the YFS program has brought top-notch services to well over 1,500 youths across the state, and that number keeps climbing. Congratulations to the YFS team and program for twenty years of amazing service!
---
---