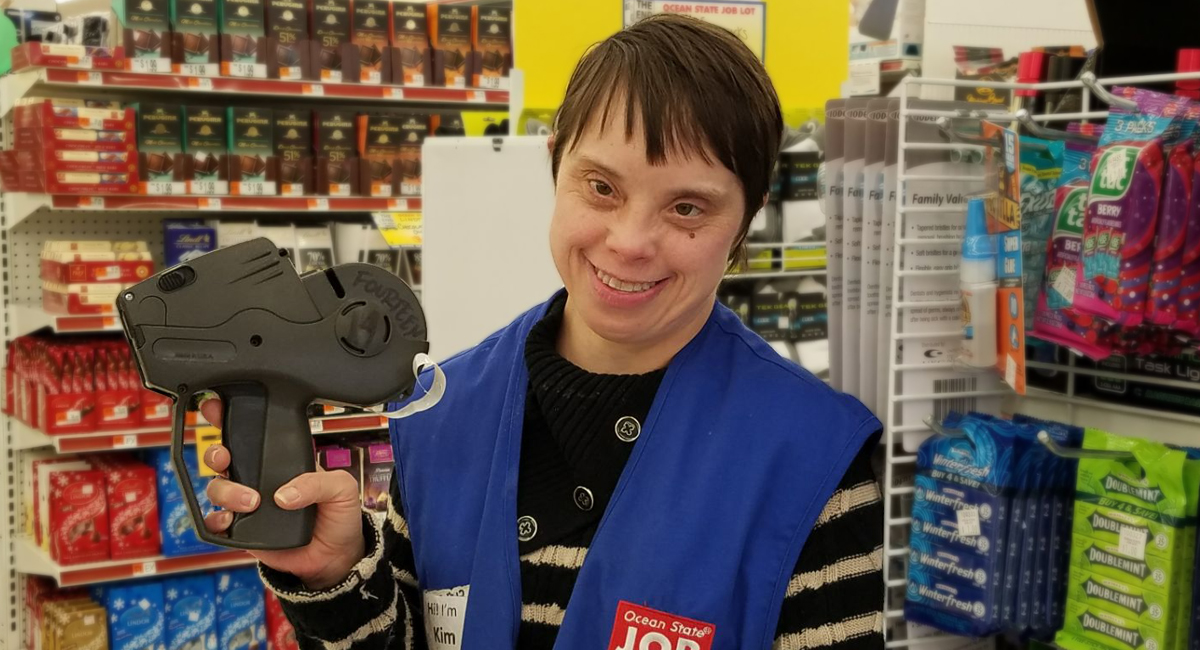 Breaking the Clouds: Kim Brightens the Workplace
By Sara Porcaro | April 12, 2018
It's another ordinary day in North Kingstown. The steady stream of traffic rumbles over the roads, the trees stretch up to a slightly cloudy sky, and a few people are already on their way to the Ocean State Job Lot to begin a day of errands. But inside that Job Lot, on this ordinary morning, is an extraordinary employee, Kim, wearing a bright smile with her uniform.

From frequent shopper to dedicated employee, Kim has been working at her favorite store since last July. She spends her Tuesday and Wednesday mornings at the front of the shop, pricing items and ensuring labels are accurate. And when she's not pricing items, she's stocking them, providing a neat and orderly inventory for Job Lot guests.

"I love everything I do here," says Kim, "but my favorite part is getting to talk to my coworkers and customers."

Kim is a star among her coworkers, a friendly and positive force that gets the morning off to a great start. Whether it's a good conversation, a helping hand around the store, or the occasional gift she likes to give, Kim knows just how to make the space a great place to be.

Her supervisor, Steve, notes that "her coworkers love her, and she's an incredibly giving person"--seen in the Easter gift and palm leaf for Palm Sunday that she gave him. He also commends her for her work, saying that "Kim is awesome. She takes her work seriously and is always enthusiastic about it."

That warm personality doesn't stop at work, of course; at home, Kim loves to set the table and cook for her housemates. Be it stuffed shells, pasta and meatballs, or hamburgers, there's nothing better than having her friends join her for a good, homecooked meal. She also enjoys watching T.V., doing puzzles, and playing cards with everyone--all relaxing ways to spend time with those she loves.

While at work, Kim doesn't hesitate to say, "I love it here, and I love my coworkers. I want to stay working here for a long time."

"It's been a great experience," says Steve, "and we all have a good time together."

Be it at home, at work, or out in town, Kim's upbeat personality and solid work ethic put a sparkle on the day. With the friends she's made, the people she's met, and the great work she's done, she's lit up her workplace with her bright personality--and everyone loves to see her shine!

---
---