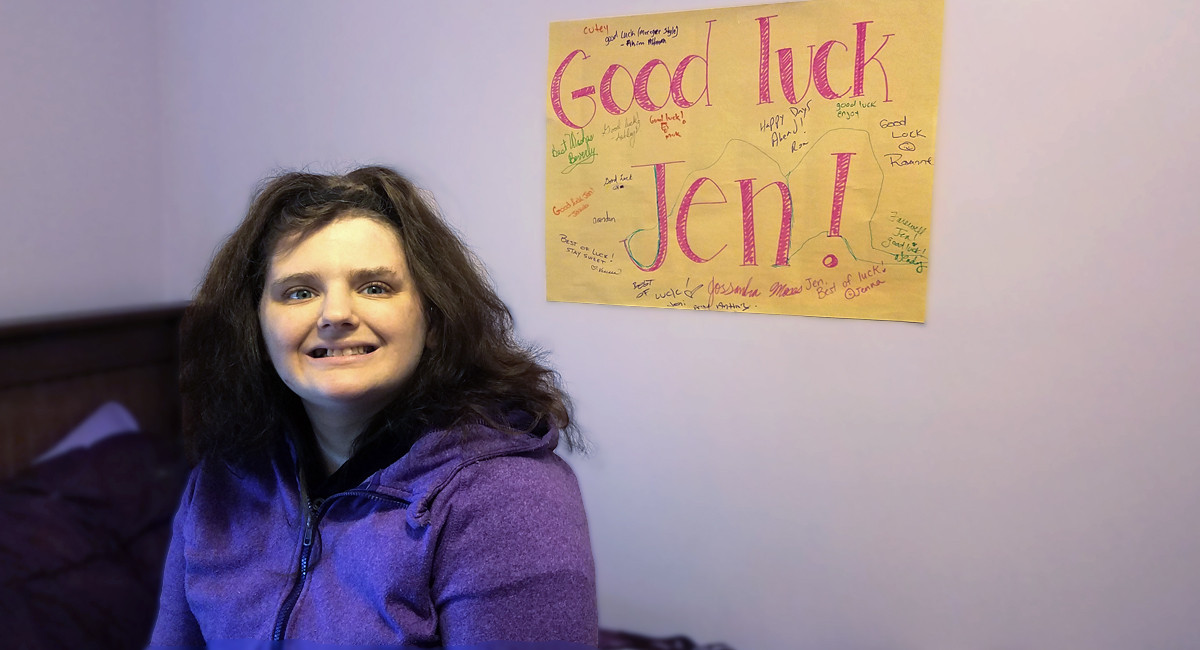 A Place to Call Home: Perspectives Deaf and Hard of Hearing Home Opens in Coventry
By Sara Porcaro | April 5, 2018
"Welcome to our home!"
The little wooden sign awaits all who open the door of the brand new home in Coventry. At ten in the morning, the spacious living room and kitchen have a serene quality to them, the softened light of a cloudy morning blooming through the rooms. Two individuals live here now, and more roommates will soon join--all of whom are Deaf or Hard of Hearing, in this house tailored specifically to support all Deaf and Hard of Hearing needs.
The house, previously uninhabited for two years, has gone through a spectacular transformation by the determination and hard work of many Perspectives Corporation staff, such as Site Supervisors Billie Jo Gray and Chris Bouchard, Program Manager Talia Jackson, American Sign Language (ASL) Program Coordinator and Instructor Heather Niedbala, Environmental Technician John Mahoney, Environmental Coordinator Abdoulie Bah, and many others. Over the course of several months, these dedicated professionals and local cleaning crews have turned this house into a beautiful, cozy home.
One individual, Jennifer, loves her new home, especially with her room painted her favorite color, purple. She expresses that "the house is really nice, and so is everyone in it." Jennifer loves that everyone knows ASL--and that she has the freedom to spend each day as she pleases.
Emily, too, is very excited to live in the new house, noting that she "really likes the independence"; she's had a great time cooking her own meals, playing games, and getting to know her new housemate--all perfect ways to get settled.
This new house under Perspectives' 24-Hour Adult Residential Services was started when the State of Rhode Island's Department of Behavioral Healthcare, Developmental Disabilities and Hospitals (BHDDH) realized the need for specifically Deaf and Hard of Hearing residential care. BHDDH approached various human services agencies and asked them to give a proposal on their ability to provide such residential services. With Perspectives already hosting ASL classes and having a Deaf and Hard of Hearing specialty within their Youth and Family services, the house soon became a part of the agency.
"The goal," says Senior Director Jim Simon, "is for Perspectives to not just start a new residential home, but a whole team specifically for Deaf and Hard of Hearing adults, as we've done with Youth and Family services. This house is just the beginning."
And the professionals behind this team, like Talia and Chris, are optimistic: Talia notes that "this is a positive change, and more change is coming," as more Direct Support Professionals are being trained in ASL to better support the new program.
It's a new chapter for the individuals of this new home--and it can be a new chapter for you, too! Perspectives Corporation is hiring staff that are well-versed in ASL. If you or someone you know are skilled in ASL and want to make a difference in the lives of others, apply today on Perspectives'
Careers
page!
---
---