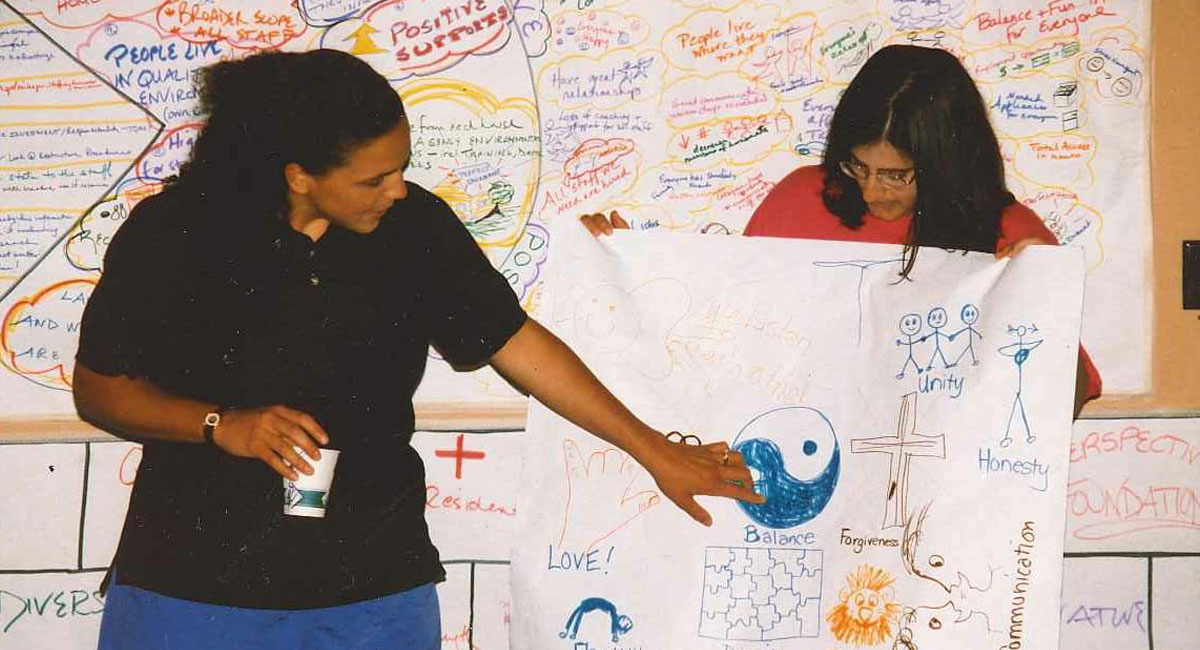 40 Years of Perspectives: In the Community in Meaningful Ways
By Sara Porcaro | September 27, 2017
The clock strikes five, and you lean back in your chair to stretch. You have plans with friends later, and they get you out of your chair and shuffling your things together. For you, and for countless people worldwide, what happens outside working hours is just as important as the job at hand -- and that same idea can be seen in Perspectives Corporation's Adult Day Services.
After a decade of providing Adult Residential Services, Perspectives had grown incredibly quickly, and as a result, the agency dedicated itself to expanding services for individuals. The Winning Edge, later renamed the Alternatives Job Placement Center (AJPC), opened in 1987, where individuals received both Employment Services and Adult Day Services -- neither of which ever took place in sheltered workshops. From the moment the AJPC opened, everything from employment to volunteer work, and exploring individuals' interests through recreational activities was centered around community involvement and integration. Perspectives focused on taking the time to find each individual's interests, likes, dislikes, strengths, and passions, and channeling this crucial information into an Individual Service Plan (ISP) that would help build important skills and overall independence.
"The intention was to do away with system-centered services," says Senior Director Kim Einloth, "and start focusing on person-centered services, and supporting individuals to be in the community in meaningful ways."
Discovering a Happy, Fulfilling Life
"People should have the opportunity to participate in everyday life like anyone else"
Because Adult Day Services and Employment Services were originally heavily intertwined, the focus from the late '80s onward was placed mostly on finding avenues of employment for individuals that would allow them to be contributing members of their communities. However, as employment rose for individuals over the next decade and branched out to various different fields of work, this focus shifted to the after-hours of each individual -- and what each individual could do in those after-hours to continue building their strengths, forging relationships, and discovering new and exciting opportunities for the future. From self-advocacy training to resources for lifelong learning and education, as well as community and home life services, countless pathways continued to develop as Perspectives made the journey with individuals to discover what made for a happy, fulfilling life.
Yearly meetings with individuals consistently took place to see where they were in their ISP, and where they still wanted to go. Later on, Planning Alternative Tomorrows with Hope (PATH), a person-centered planning tool, became a part of Perspectives' methods in order to assist in ISP development. And along the way, various new programs and activities were added to the list of available options. From volunteering at places like the Johnny Cake Center, the Gaitways Horse Farm, and the WaterFire Arts Department, to being members of several YMCAs and recreation centers, paying visits to museums, zoos, and aquariums, and filling baskets with fresh fruit at local fruit farms, individuals are out meeting new people, nurturing new friendships, and finding new interests.
The focus on integration has shifted as a result of these wonderful experiences, working instead towards inclusion -- a seemingly small distinction, but a truly great difference. Senior Director Andrew McQuaide explains that "rather than have individuals go to a place like a museum as a group, we encourage individuals to explore their interests independently, which leads to conversation with others in the community who share those interests."
On the YMCA, Einloth also notes that "the membership increases their satisfaction and physical fitness while demystifying their presence to the community members." The YMCA outings are not separated from other club members, including activities like Zumba, and this not only helps build relationships between individuals and others in the community, but even encourages community members to come back each week to see their new friends. A Perspectives DSP has even been given a space to teach an integrated hip-hop dance class, to the delight of those frequenting the club.
"People should have the opportunity to participate in everyday life like anyone else," says Einloth, "and the Y is just one way we're making that happen."
The World At Their Fingertips
"We're there to support individuals every step of the way, at their own pace"
Along with the focus and activities provided, the direction of conversation has also changed these past 40 years. Perspectives has always advocated for the idea that people, no matter where they are in their life's journey, can participate in the community and build great relationships. In the last fifteen years, Adult Day Services have been making more and more effort to push each individual's strengths, and what they can contribute to a new job, a volunteer site, or a new organization. The confidence that has always existed for and within individuals supported by Perspectives has truly shined through as services continue to develop around person-centered planning.
"We firmly believe that each person can contribute to their community from exactly where they are; no waiting, no 'graduating'," says McQuaide. "We're there to support individuals every step of the way, at their own pace."
No matter what, Perspectives Corporation's Adult Day Services is dedicated to supporting individuals in living a life that brings meaningful connections, satisfaction, and opportunities for the future. Whether it be goals in health and education, or adventures out to experience new things, those who receive support from Perspectives have access to anything they'd like to do; the world is at their fingertips, ready when they are. And while you plan your weekend activities, excited for time with friends and family, so too are the individuals of Perspectives' Adult Day Services looking forward to all the possibilities that await them.
---
---