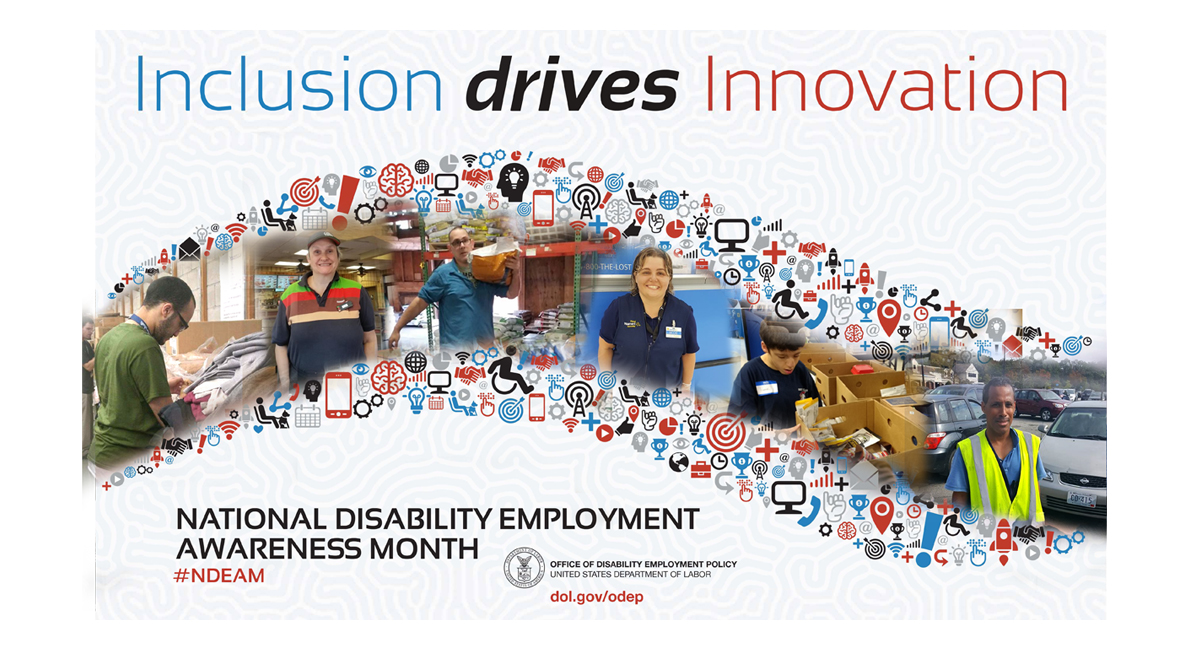 National Disability Employment Awareness Month: Inclusion Drives Innovation
By Sara Porcaro | October 23, 2017
It's a wide world of opportunity in America, and everyone has a skill and passion to bring to the table. This October, during National Disability Employment Awareness Month (NDEAM), countless organizations, businesses, and communities gather around to celebrate and encourage workplace diversity as they recognize these individuals' skills. Among these entities, Perspectives Corporation is proud to promote and support individuals in their journey to a work environment that matches their ambitions and strengths.

NDEAM, promoted by the only federal non-regulatory agency, the Office of Disability Employment Policy (ODEP), is a nationwide effort to help educate businesses and agencies to the limitless potential of the individuals in their community. ODEP's actions and direction put them in accordance with two of the Department of Labor's employment goals: to provide individuals with quality, fair workplaces to demonstrate their skills, and to eliminate the myths and misconceptions surrounding these fantastic individuals so that workplaces become more diverse and income inequality diminishes.

This month's theme, "Inclusion Drives Innovation," reminds us of the importance of fresh perspective, which we find in a team of diverse individuals whose point of view and skills compliment and uplift each other. On the Department of Labor's website, U.S. Secretary of Labor Alexander Acosta makes this statement:

"Americans of all abilities must have access to good, safe jobs. Smart employers know that including different perspectives in problem-solving situations leads to better solutions. Hiring employees with diverse abilities strengthens their business, increases competition, and drives innovation."

And, of course, inclusion is the vein in which Perspectives Corporation's Employment Services operates. Ever since its conception in 1987, Perspectives' Employment Services have eschewed the traditional sheltered workshop setting, instead demanding that the individuals they support work within their communities and build meaningful careers and relationships with those around them. That's because Perspectives understands that a workplace is more than just a place to be from 9 to 5; it's a place to build connections, give back to the community, and strive for a fulfilling career that allows them to achieve their greatest ambitions.

Rhode Island is one of 32 states that follow the Employment First initiative: a federal initiative led by ODEP to help provide the supports and services necessary to individuals so that they have access to the same opportunities and quality careers as anyone else. As such, Perspectives Corporation offers services that follow this initiative in all steps of the hiring process. From building skills to prepare for the workplace, resume workshops, and surveys and activities to find each individual's interests, to on-the-job training, transportation assistance, and job retention supports, Perspectives is dedicated to ensuring safe, quality, fulfilling careers to all individuals receiving support from the organization. Perspectives also works with employers to assess employment needs, train individuals for various work environments, and help employers become more accessible to all citizens.

While October is the official month to celebrate and recognize these hard working individuals and the great skills and creativity they bring to their workplaces, it's important that we continue to celebrate them every month. Their dedication and passion is something to be admired, and it's an honor to be able to support them in their journey to a career where they achieve their aspirations and help the community grow closer together. A big thank you to all individuals making their community a better place through their work, as well as those that have given their love and support through each individual's journey!
---
---