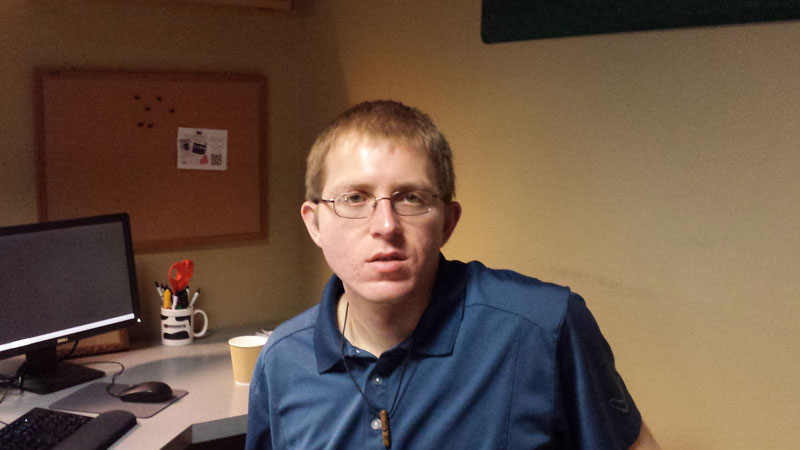 Whether Rain or Sun or Snow, Andrew Will Be There
By Sara Porcaro | May 17, 2017
While many workplaces are hectic and busy on a Thursday afternoon, a local Warwick office knows no such stress. The silence at Data Storage Corporation is soft as the clouds overhead, the office bright and calm, and Andrew Tabachini works diligently at his desk, free to put all his focus on the task at hand.

Since 2013, Andrew has been a part of the Data Storage Corporation's team, first as an intern, where he had the chance to demonstrate exactly the kind of worker he would be: highly efficient, accurate, and endlessly reliable. Andrew, who receives support from Perspectives' Employment Services, also values his independence, as he takes the RIPTA bus at 6:30 A.M to make it to the office for 9 A.M. He works two days a week, and from the time he arrives to when he clocks out at 2 P.M., he is busy organizing, entering, and completing data for the company's client cases. Andrew's supervisor, Tony, also commends his commitment to the job, noting that he is always on time and never leaves early.

"Even when I tell him he can go home early, he stays," Tony says with a smile. "Whether it's raining or snowing, Andrew will be there at 9 A.M. sharp."

And even when Andrew isn't at the office, his discipline and determination find other outlets—namely, the Special Olympics. Andrew currently holds the Rhode Island record for dead lifting at 402 pounds, and he continues to train in order to best his own records at the upcoming competition. He also enjoys spending time with his friends, family, and his girlfriend, happy to partake in leisurely activities and peaceful days at home.

Andrew's gentle nature also makes him a great fit for the office, as he enjoys working with his coworkers in group efforts and other workplace activities. Tony notes that his "willingness to participate" is yet another great quality, right along with his "very good work ethic" and his quick pace as he flies through tasks. Since starting there, Andrew also believes that his organizational and analytical skills have greatly improved, and he enjoys making continuous efforts to grow those skills further. A clearly highly valued employee, Andrew is very happy to work his position at Data Storage Company and share that space with other like-minded people. And so long as the clouds continue their gentle drift, and the office sits in that comfortable, soothing silence, Andrew will be happy to contribute his skills to a workplace that appreciates them.

---
---