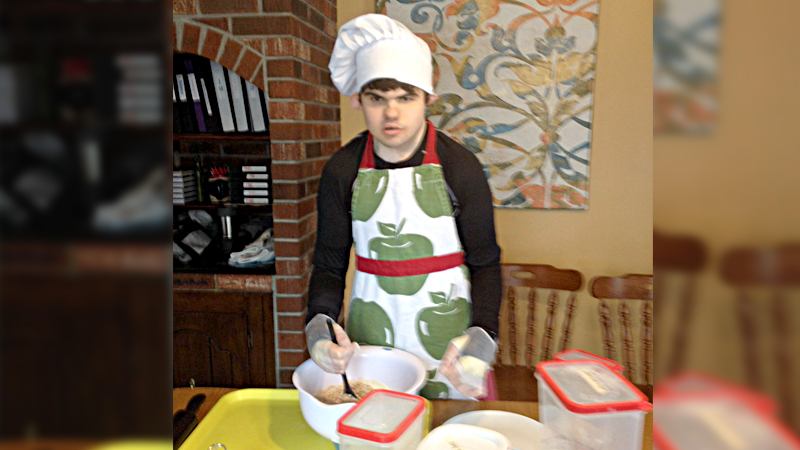 John's Busy Week Delivers Smiles Across Rhode Island
By Sara Porcaro | March 1, 2017
From Monday, when the horses at The Mustard Seed Farm in Foster trot happily, knowing their stables are clean and their water and hay are freshly replenished, to Friday, when Westerly's Jonnycake Center food pantry is stocked and organized to help families in need, it's a busy week for John Mack.

But a busy week is typical for John, whose independent spirit, motivation, and optimism inspire his daily efforts in uplifting and serving his community through volunteer work at three Rhode Island locations - as well as making his own dog treats to sell.

John, who receives services from Perspectives Corporation, is always glad to get out in the sun, out where the people are, and isn't afraid to get his hands dirty.

At The Mustard Seed Farm, twice each week he's an integral part of the team that keeps the farm clean and healthy for people and animals. On Tuesdays, Meals on Wheels participants receive both food and a smile, their days brightened by the warmth of John's friendly delivery. And on Fridays, the Jonnycake Center is a little brighter for the day, its racks reorganized, its shelves restocked, and its staff invigorated by John's cheer.

"Everyone loves John," says Daniel DiBiaso,who works with him on Tuesdays and Fridays, "They all want to talk to him and ask him how his day was. When he misses a week, everyone notices and asks John where he was and says they missed him."

When he's not out and about, at home John's kitchen is filled with deft hands, baking tools, and the aroma of homemade dog treats. The dog treats are his own project, and between his determination, love for his work, and the help he gets, he has a fantastic time making, baking, and selling them to some lucky pup's owners.

"His do-it-now-not-later attitude gives him a drive most people would be jealous of," says DiBiasio.

With the support of Perspectives, not only is John doing the good work of volunteer service, but he's also doing the personal work of building strong relationships with those he helps. His passion and work ethic are recognized wherever he goes, and his kind, selfless personality shines through in all that he does.

---
---