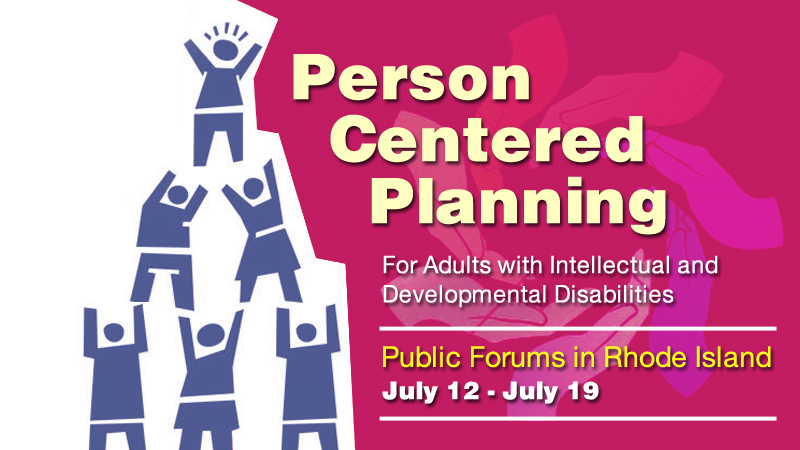 Person Centered Thinking and Planning Sessions
By Jason Carpenter | July 11, 2017
The system of services and supports for Rhode Island adults who have intellectual and developmental disabilities is in transformation. The new system needs to be built on the concept that the person is the beginning and the end of every conversation and must be the primary focus of every conversation and every form. This is called person-centered thinking. Many of you have been involved with this idea for a long time. Some of you have participated in meetings about person-centeredness during the past few years. It is now time for Rhode Island to take the next steps towards implementing a truly person-centered system. Implementing a true person-centered system is a step towards the conflict-free case management system.

To help design those next steps, the Division of Developmental Disabilities is partnering with the Conversion Institute at the Sherlock Center to hold a series of public forums about person-centeredness. The purpose of these forums is to share with you some information and descriptions of how other organizations have implemented person-centered thinking and to solicit your thoughts and your input into how it could be implemented in Rhode Island. These will be family-to-family discussions and will be facilitated by family members.

The upcoming forums listed below are intended for families:

Kingston Free Library
Wednesday, July 12 - 5:30 - 7:30 pm
2605 Kingstown Road, Kingston, RI 02881

Mohr Library in Johnston
Tuesday, July 18 - 5:30 - 7:30 pm
1 Memorial Avenue, Johnston, RI 02919

Middletown Library
Tuesday, July 18 - 5:30 - 7:30 pm
700 W. Main Road, Middletown, RI 02842

Harris Library in Woonsocket
Wednesday, July 19 - 5:30-7:30 pm
303 Clinton Street, Woonsocket, RI 02895

The RI Division of Developmental Disabilities will incorporate the ideas and suggestions into a plan for implementing person-centered thinking. These will be presented at two wrap-up sessions to be scheduled in August. Final revisions to the process will be made after the wrap-up sessions and shared publicly. Your input into this process will further strengthen the services here in Rhode Island.

Your input and participation in this process is valued. Please try to attend one of the sessions. No registration is needed. If you need any accommodations, please make your request at least one week in advance of the scheduled forum. Contact Elaine Sollecito at esollecito@ric.edu or call (401) 456-2764.


---
---