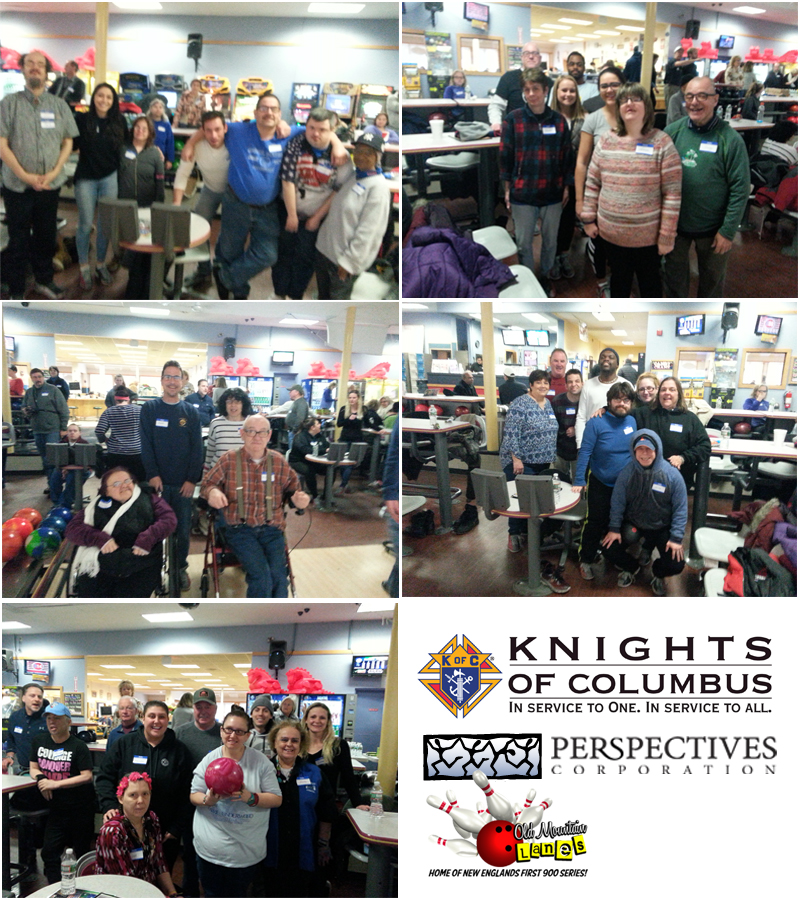 Wintertime Bowling with the Knights of Columbus
By Sara Porcaro | February 20, 2017
While all of Rhode Island saw the white of snow last weekend, friends and participants of Perspectives Adult Residential and Day Services joined the Knights of Columbus to see the white of bowling pins, too.

Down in Wakefield at Old Mountain Lanes on Sunday, the 12th, the Knights of Columbus hosted the event, and brought all the requirements for a great time - sweets, sodas, and smiles (along with medals and trophies won by those bowling). The event was originally meant to have 90 guests, but due to the weather, 60 out of the 90 made it - still quite a ball, filling up 15 bowling lanes with one or two Knights at each one. The event lasted from 12:30 P.M. to 3:00 P.M., and not one moment was dull. Everyone that came jumped right in, mingling the wooden echo of pins falling with the talk and bright laughter of the guests. Together, they all spent the frosted afternoon cozied up and aimed for strikes at the local alley. The awards, too, were a fine way of spreading cheer and humor, and ended the event on a high note - best Thrown Ball, Most Enthusiastic, and Most Gutter Balls were just a few titles given away.

The event was organized by Perspectives' activities supervisor Jonina Lonczak, who took up the Knights of Columbus' offer for a day of bowling for all those interested in a good few rounds. These Knights have a long history in New England dating back to 1881 when they were founded in New Haven, CT, by Father Michael J. McGivney, whose aim was creating "a fraternal benefit society." For over a hundred years, their financial and charitable work has included various fronts, such as providing assistance to refugees, aiding in relief efforts in natural disasters, and providing financial aid through scholarships to students.

The Knights of Columbus has its history with Perspectives Corporation as well; before the Adeline LaPlante Memorial Center (ALMC) joined Perspectives, the executive director at the time was friends with one of the Knights, and together they planned numerous fishing trips for the ALMC participants. Both groups quickly grew attached to one another, and hosting these annual bowling events was the Knight's way of opening their open arms even wider, inviting the people we support who wished to come to enjoy a fine day in good company.

A great thanks to the Knights of Columbus for yet another wonderful event; hopes are high for more opportunities for Perspectives clients to gather together in future fun events!

---
---