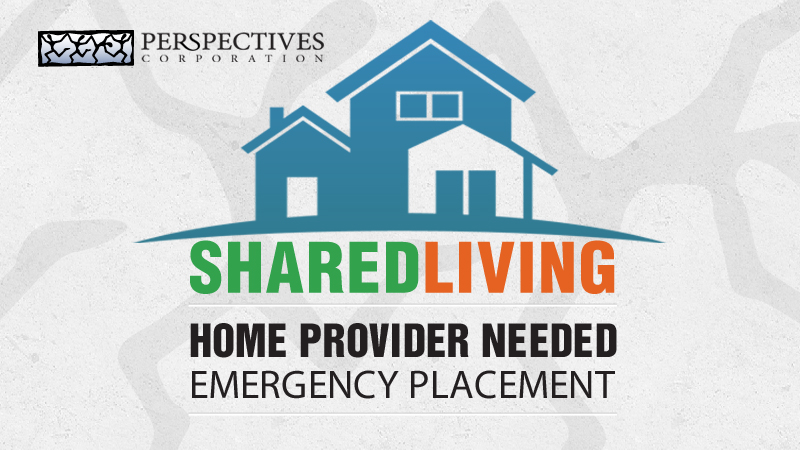 Home Provider for Shared Living: Emergency Placement
By Jason Carpenter | February 7, 2017
Do you have room in your heart and in your home for a person in need of temporary Emergency Placement?

If your answer to this question is "Yes!" you might want to consider becoming a contracted Home Provider with Perspectives Corporation.

With thirty nine years of experience, Perspectives Corporation is a leader in the field of providing human services and support for people with disabilities in Rhode Island.

A brief summary of the Home Provider for Sharing Living:

We match people with disabilities to compassionate caregivers who would like to provide support for someone in their home. In exchange for including an individual in their extended family and helping them with daily living tasks as needed, our Home Providers receive a generous stipend as well as training and support from the Perspectives Corporation team. Many of our Home Providers tell us "This experience is so rewarding that I get more out of it than I put into it."


There are needs for both long term and short term placements.
Your home can be either a rental or owned with and extra bedroom for an individual.
You will have access to a trained support professionals 24 hours a day for emergencies which may arise.
The time commitment ranges from 2 weeks to several months, this can be determined prior to the person moving in if needed.
From our office in North Kingstown we serve the entire state of Rhode Island and our need for Home Providers statewide.
APPLICANTS:
Applicants must pass a background check, have a valid driver's license, safe driving record, have auto insurance, pass a home inspection and have either a high school diploma or GED.
To become an Emergency SLA Home Provider, fill out
our application form
and one of our specialists will be in touch with you. For more information about SLA,
visit our Services page
.
If you have any questions, please contact Nancy Lewis-Oliver 401.294.3990 ext. 237.
---
---