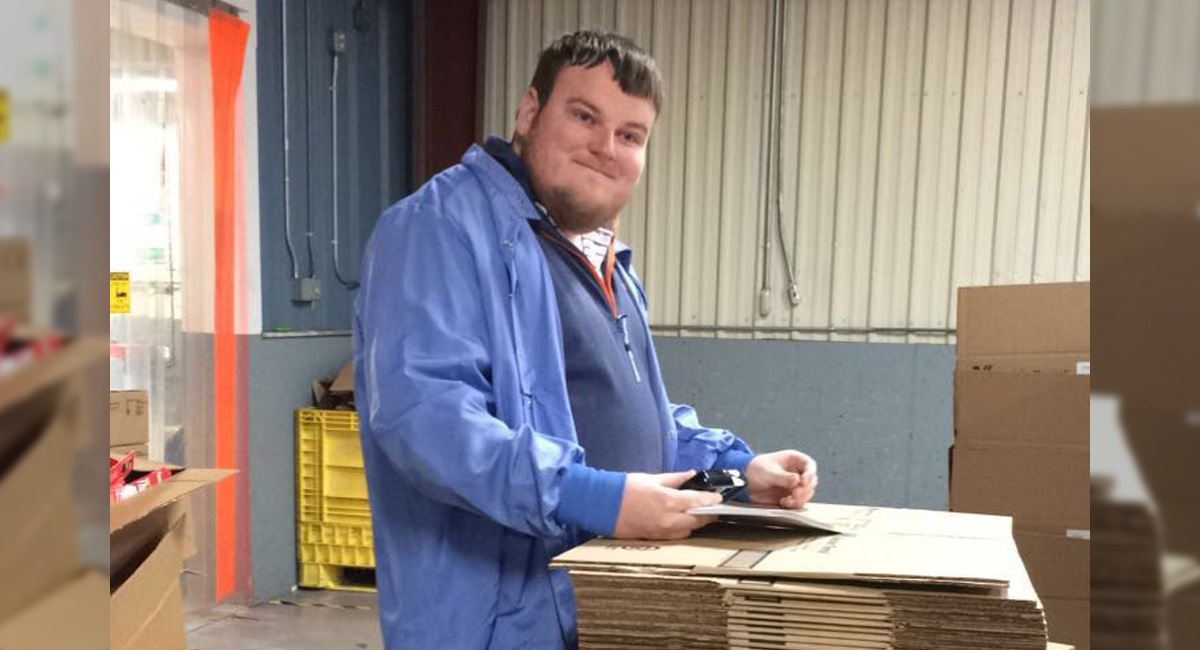 The Creative Core of Success
By Sara Porcaro | December 7, 2017
It's a peaceful morning for a city of warehouses and offices down in Narragansett -- white buildings graze gray skies, a few cars coast over railroad tracks, and a roaring silence stretches on for miles. But inside these buildings, people are diving into their work, and the Life Wear Technologies warehouseis certainly no exception. Behind those doors, boxes of products are sorted and stacked for shipping, with Patrick Quinn playing an essential role in the process.

Since February, Patrick has worked three days a week, from 9 AM to 12:30 PM, on Fulfillment Duty, which consists of labeling, organizing, and stacking boxes of Life Wear's products, such as cold packs, heat packs, and coupons. His friendly demeanor lets him work alongside others with ease, and he looks forward to any part of the job he's assigned to do -- though he enjoys organizing the packages the most.

For Life Wear Technologies, an innovator and leader in sports medicine products since 1974, creativity is a core element. Therefore, it makes perfect sense that their workers, like Patrick, are also creative and thoughtful people. Patrick beams as he talks about his hobbies and passions outside of working hours, which include playing guitar and participating in summer music camps, filling sketchpad after sketchpad with artwork, playing classic video games such as "Super Mario 64" and "Banjo Kazooie," and reading the works of Roahl Dahl and other great authors. He also enjoys going out to eat with friends, hitting the gym, and relaxing at home.

Albert Greer, president and COO of Life Wear Technologies, is also a member of the book club Patrick attends, and sings praise for him as a worker. "He's punctual, reliable, and dedicated," says Greer, "and we're very happy to have him. He's really a valuable asset to the company and a crucial member of the team."

Patrick comes to work each day with a smile, ready to take on whatever challenges come his way. His work and passions complement each other, as the discipline and creative power he has from pursuing music and art go hand-in-hand with the focus and responsibility the job requires. With a bright smile on his face, Patrick notes that he hopes to get more responsibility in his future career endeavors, and that he'll "keep up the good work." We believe it, Patrick!

A standing ovation for Patrick, and all the great work he does, in the workplace and in his everyday life!

---
---