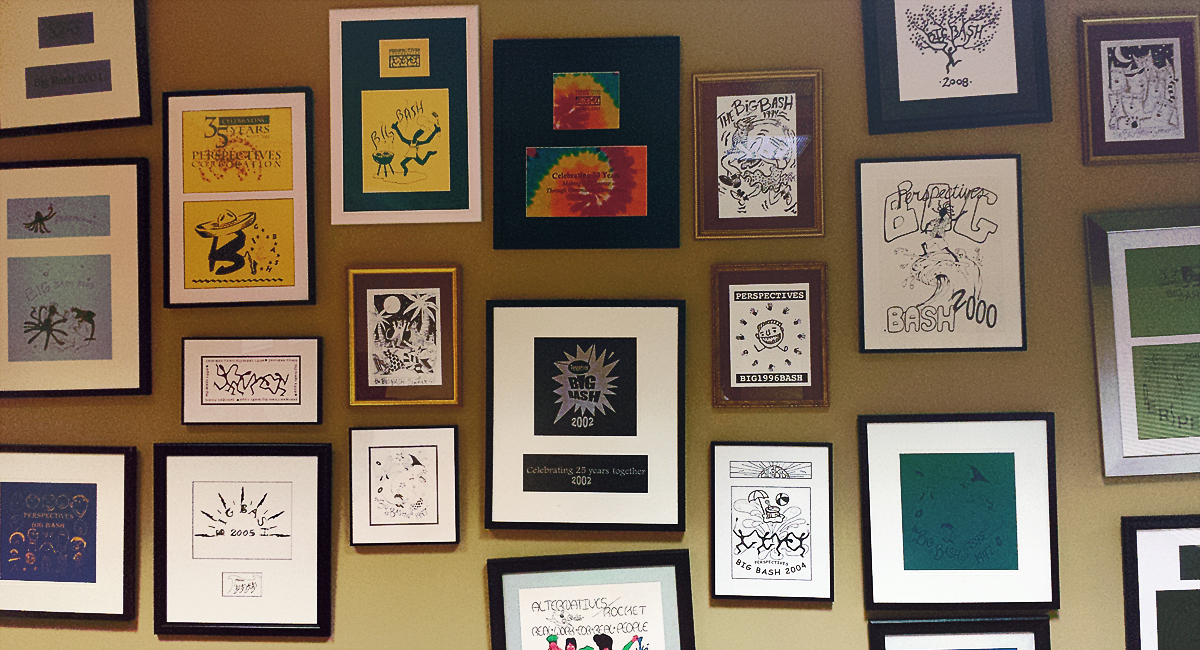 Perspectives to Celebrate 34th Annual Big Bash
By Sara Porcaro | August 9, 2017
This September, 2017, Perspectives Corporation will hold their 34th annual Big Bash celebration.

The Big Bash, taking place this year at Goddard Memorial State Park in East Greenwich, is one of the many ways in which Perspectives unites people. Families, friends, employees, and individuals who receive support through Perspectives will all come together on September 10 for a few hours of fun and food, as well as to reconnect with loved ones from all over the state and beyond.

Perspectives' Big Bash began in 1983, born of the wish to celebrate friendship, growth, and community bonds—a celebration that, according to Perspectives' CEO Dave Ruppell, originally took root in Burlington State Park before moving to Narragansett Beach Park. As Perspectives outgrew even that, the annual celebration moved to its current location at Goddard Park; and though the venue has changed, all along, t-shirts have played a vital role—from distinguishing everyone's Perspectives program, like Adult Day Services and Adult Residential Services, to promoting a sense of community participation and pride.

Chief Operating Officer Judy Niedbala notes that the t-shirts, made and distributed by Graphic Perspective, have been a cornerstone of the Big Bash; something everyone gets excited about each year as designs change to reflect different themes and ideas. They are, she states, "trademarks of the agency," and this year's shirt—ruby red in representation of Perspectives' upcoming 40-year anniversary—is one of dozens of original designs created over the years. Senior Program Supervisor Dale Smalley adds that "the original starburst design was a favorite for a long time," and now, the t-shirts have an array of designs and themes put forward in annual t-shirt design competitions.

As a community celebration, there is a sense of togetherness at each Big Bash. Niedbala states that "people used to bring food," but as the party grew each year, coordination became more challenging. Now, people still volunteer in various ways to make the Big Bash a success, and Ruppell and Chief Financial Officer Frank DiRaimo are among some Perspectives employees that volunteer to grill throughout the party. Everyone works together to ensure one of the year's highlights both lives up to past fun and stays memorable for years to come.

The Big Bash "feels almost like a family reunion," Smalley fondly remarks. As the company grows and friends, family, employees, and individuals move to new environments and opportunities, the Big Bash remains a place to catch up and rekindle bonds after so much activity. The celebration connects people "from the ends of Westerly to North Smithfield" and beyond, according to Niedbala, and both agree—while the venues, food, and times have changed, the core essence of the Big Bash has not. Community, friendship, and fun have stayed the focus, and will remain the center of this celebration for years to come.

Perspectives' 2017 Big Bash will take place on September 10th from 11 A.M. to 3 P.M. at Goddard Memorial State Park on Ives Road, East Greenwich.

---
---