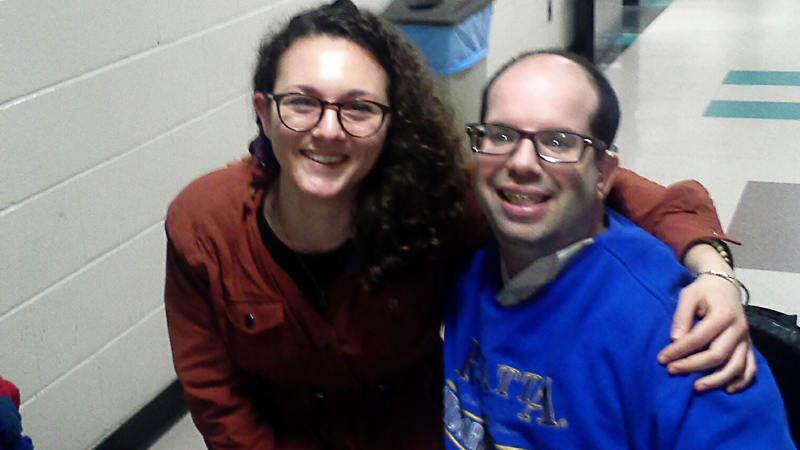 Perspectives and Brown University's Partnership for Adult Learning
By Sara Porcaro | August 16, 2017
Education is more than what can be found in the pages of a book—and it doesn't start or stop on either cover. In fact, the best part of learning is sharing new knowledge and working toward goals with friends, colleagues and others. It is in this spirit that Perspectives Corporation is collaborating with Brown University's Partnership for Adult Learning (PAL) program to further strengthen shared learning between Brown students and individuals who receive services through Perspectives.

According to PAL coordinator Diem-Khanh Nguyen, "PAL's mission, since its founding in the late 1970s, is to provide an opportunity for mutual growth through personal relationships that are formed around and through the shared pursuit of continuing education."

Tutors from all majors at Brown University work in the PAL program with adults of differing abilities to help teach participants about a specific topic of the learners' choice.This allows the opportunity for participants to learn about virtually anything—from music to astronomy,job-related skills to DIY activities, and whatever else sparks their curiosity.

Providing Knowledge and an Opportunity for New Friendships

One participant, Mark Susa, has enjoyed PAL for nearly six years -- a program he and his family found some years after participating in Brown's Best Buddies program. Thanks to PAL's one-on-one approach, he has been matched with tutors who share and meet with his interest in travel, geography, music, and the internet, and who have helped to broaden his interests to other subjects. The fluid approach of PAL has let one tutor combine Mark's interest in poetry with his interest in other countries to study and reproduce global poetic style and cultural influence—artistic expression that may have gone undiscovered if not for the combination of curiosities. And at the end of the semester, all tutors and learnerswill come together to discuss what they have worked on together.

"Mark is a natural extrovert," says Mrs. Susa, Mark's mother, "so while the one-on-one approach works for him, he also gets a chance to socialize with everyone else at the end."

The interaction between tutor and learner is not confined to Brown's campus, either; Mr. and Mrs. Susa remark that tutors who have grown close to Mark are free for the Susas to invite into their home, which "creates a much more organic relationship between Mark and his mentors." True to its mission, PAL has provided learners not only with a means to the knowledge they seek, but also an opportunity for new friendships. "Mark's circle of friends has increased," notes Mr. Susa, "and he looks forward to his time at Brown and other outings."

Mark comments that his poems are primarily "about his friends and ex-girlfriend," which tell long but funny tales. When asked about his experience with the PAL program, Mark enthusiastically responds that it has been an "excellent" program thus far: "It is awesome!"

Opening Doorways to Deeper Community Experience

Since Perspectives Corporation partnered with Brown's PAL program, which operates under the Swearer Center for Public Service, it has been used as well to train tutors in their approach to interacting with those of differing abilities. Perspectives' Community Liaison, Alexus Larney,notes that the tutors are being further trained on important topics like "abuse, neglect and mistreatment, when to report, how to redirect, confidentiality, person centered learning," and other important skills to create safe and healthy relationships with PAL participants.

Nguyen, along with others, is "really excited to see where [PAL] leads," as she confesses that there was a potential to end the program from lack of community partners. However, since Perspectives Corporation has stepped up as a new partner, PAL is flourishing, and the tutors and learners who love to come together to discover new ideas are reaching for bigger and better things. "Perspectives has been a great partner," says Nguyen, "one that lets us stay autonomous but gives us the tools we need to succeed."

Thanks to the hard work of both Brown University and Perspectives Corporation, the books are not closing, and neither are the doorways to deeper community experience. Education and those inspired to pursue it will continue to thrive, and the words in the books will only be the start of a brighter, more interactive future.

---
---