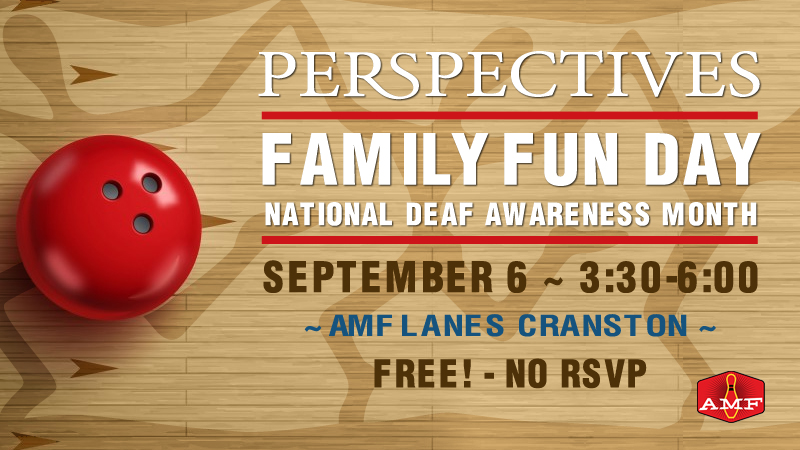 Perspectives 6th Annual Family Fun Day for National Deaf Awareness Month
By Sara Porcaro | August 28, 2017
September brings a host of changes and celebrations; from the autumn equinox and new school year to Perspectives Corporation's 40th anniversary, it is a time of excitement. Naturally, amongst the flurry of activity comes one especially significant part of September: National Deaf Awareness Month.

National Deaf Awareness Month is a time for Deaf and Hard-of-Hearing communities across America to celebrate and educate those in all communities on Deaf history, culture, issues, and more. For Perspectives, such a celebration comes in the form of the 6th annual Family Fun Day, which, according to Danielle Loughlin, clinical supervisor for Perspectives Youth and Family services, aims "to provide a social event for the children and families we support as well as Deaf children statewide."

"We began doing these events because we felt strongly about celebrating the Deaf community here in Rhode Island," says Loughlin, who also notes that Perspectives' Family Fun Day is just one celebration of many across the nation.

Past years' celebrations have included a cookout at Goddard Park in 2012 and 2013, a carnival-themed celebration at Slater Park in 2014, mini-golfing at Mulligan's Island in 2015, and a free tour of Roger Williams Park Zoo with a pizza picnic last September. The goal each year is the same: a fun celebration for Deaf people and their loved ones during National Deaf Awareness Month; one that brings community together and spreads joy to all who participate.

This year's celebration will take place at AMF Lanes in Cranston, 1450 Elmwood Avenue, from 3:30 - 6 pm on September 6th

For more information, or to join us for yet another fantastic year of fun for National Deaf Awareness Month, please call (401) 372-2012 or email ASL@perspectivescorporation.com.

---
---