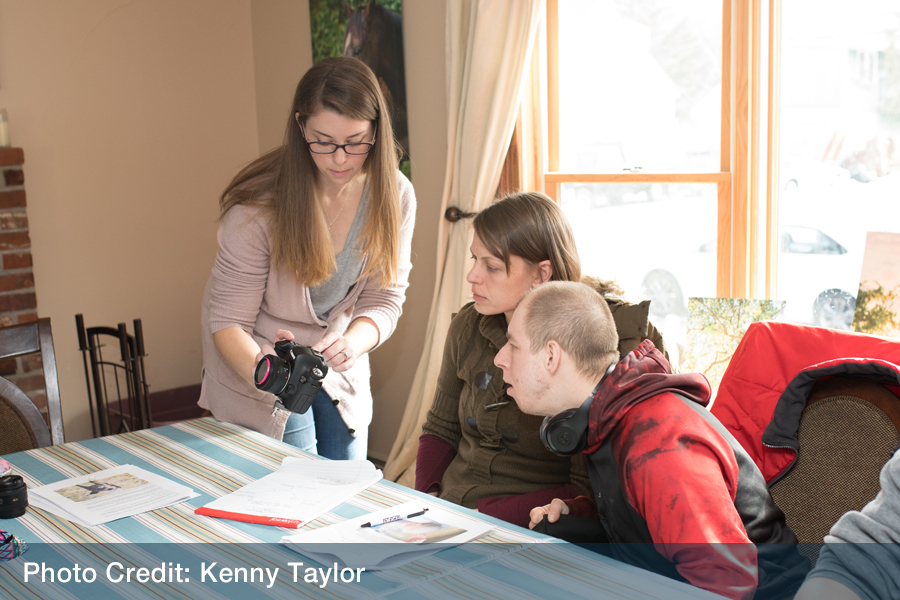 From Behind the Lens: New Experiences in Mike's Photography Class
By Sara Porcaro | April 11, 2017
Picture this: eight hours, four students, five cameras, and an instructor unlocking the secrets to breathtaking photographs.

That's what Mike Spooner became a part of during the month of March. With his Nikon dSLR camera, Mike takes all manners of pictures on his own time and during outings with Perspectives' Adult Day Services activities supervisor Maren Fieguth. He loves photography, and while he enjoys landscape and nature shots the most, he has also done pictures of various scenes—including Paula and Scott's wedding ceremony back in August of last year. Coincidentally, Maren loves taking photos with her Nikon, as well, and they often take pictures together when participating in activities with other people supported by Perspectives. Mike often used the automatic settings on their outings, while Maren used self-taught methods in the manual setting, and naturally, this led to questions—ones concerning which settings she used when she turned to manual shooting.

And those questions, building upon the skills he had already developed, led to the discovery of digital artist, photographer and teacher, Kate Taylor. Kate, the owner of Polar Square Designs, specializes in graphic design, web design, and photography, all while hosting weekly classes at her home in North Kingstown. For two hours each Sunday, at a cost of fifty dollars per lesson, up to five excited participants learn how to master the manual settings on their Nikon dSLR cameras, as well as learn the essentials of proper poses, lighting, exposures, and other vital components of the art of photography. She loves teaching her class, believing that all people from all walks of life can enjoy photography. The photography on her website of her and her classes is courtesy of her husband, Kenny Taylor.

Through the month of March, Mike jumped into the lessons, with Maren right by his side to give him any support he needed. Equipped with his camera, his notebook, and his enthusiasm, he spent four weeks with his three other classmates enjoying both the lesson and Kate's guided practice out in the field. He enjoyed both the community with his classmates and learning about composition theory, such as the rule of thirds, and technical knowledge on matters such as camera aperture and shutter speed. Homework assignments consisted of trying out techniques in capturing moving objects, such as panning and using high shutter speeds, and using various angles, manual settings, and other creative composition to bring out the best in his subjects.
Kate remarks that she "very much enjoys seeing the world through [student] eyes," and found Mike's "unique individual style inspiring." Maren, too, who came with him during each class, picked up on his happiness during each lesson as he conquered the next level of photography -- and that he was rather sad when it was over.

From the close-knit, hands-on classes, the people he shared them with, and the practice he got both in and outside of class, Mike has acquired even more knowledge of his creative hobby, and a wonderful collection of memories from a fantastic community experience. From here, his already beautiful pictures will reflect even more of his passion and dedication as they bear the mark of this learning opportunity and all the fun he has behind the lens.

---
---