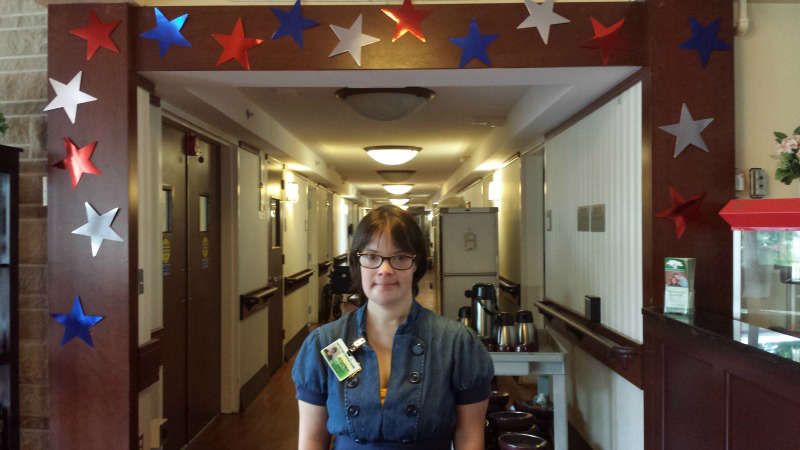 Helping People Is Her Calling
By Sara Porcaro | June 22, 2017
Already, the quiet common area at Hattie Ide Chaffee Home in East Providence shows inklings of Independence Day spirit: red, white, and blue stars and wreaths hang on the doorways and walls, and down the wide hallway comes Alexandria O'Gara in a blue denim dress.

Twice each week, Alexandria, who goes by Ali, works as an activities assistant for Hattie Ide Chaffee, ensuring that residents enjoy games and other organized events together. Upon starting in February this year, Ali, who also receives support from Perspectives Employment Services, has gone from receiving coaching with career developer Ashley Ponton to working entirely independently, including using the RIPTA bus for work. She also recently finished her spring semester at RIC, using UBER services and later the RIDE bus to get to campus. She is taking classes to further build her knowledge and skills for working with Hattie Ide Chaffee's residents. Her graduation for her program is on track for May 2018, and she plans to stay working at Hattie Ide Chaffee.

This decision to stay with her current place of employment is not at all a difficult one, as Ali is a self-professed people person, and she says without hesitation that "this field of work is [her] calling". There isn't a thing she would change about her responsibilities here, especially with how much fun she has leading Bingo games and preparing refreshments for the residents. She also enjoys training for new skills and expanding her abilities; aside from being an activities assistant, she has the opportunity to enter new fields such as physical therapy, thanks to her education and training at RIC. However, she is also a person of many dreams -- from massage therapy to acting, she has a wide range of passions revolving around entertainment and helping other people.

In her free time, Ali is still dedicated to fun and self-betterment: each Friday, she goes out with others receiving support from Perspectives and enjoys social activities such as bowling. She also enjoys working on her physical fitness at the gym, or staying in with family and watching movies. Recently, she stayed in Indonesia, and enjoyed various activities, such as marine life tours and other cultural attractions. Her outgoing nature has her willing to try new things and meet new people, and her fun-loving, social nature never stops, and such one of the major reasons she finds herself right at home working with all manners of different people at Hattie Ide Chaffee.

Her work also does not end with Hattie Ide Chaffee, nor does it start there. She has six years of volunteer experience with Elmhurst Extended Care, as well as some theater experience from working at PPAC and ten summers of camp counselor experience at Girl Scouts' Camp Hoffman. On the weekends, she works as a Charlestown beach attendant. Ali is highly motivated, always looking for opportunities to expand her work skills and follow paths that lead to interesting and rewarding career options. And every skill she has comes together when working with people and making them happy -- just part of what makes all her effort worth it.

Even though the common area remains undisturbed in the early summer morning, Ali is already busy preparing refreshments and other resources for the day ahead. She works with a smile, already looking forward to the fun she has planned with the residents and to interacting with them throughout the rest of their day. Bright, personable, and friendly, Ali is bound to flourish doing what she loves, and her dedication to her job and the people in it is unquestionable. She loves the work, the experience, and the many options for further career development in this field, and this enthusiasm and optimism colors the atmosphere. It's a wonderful fit for a fantastic worker.

---
---