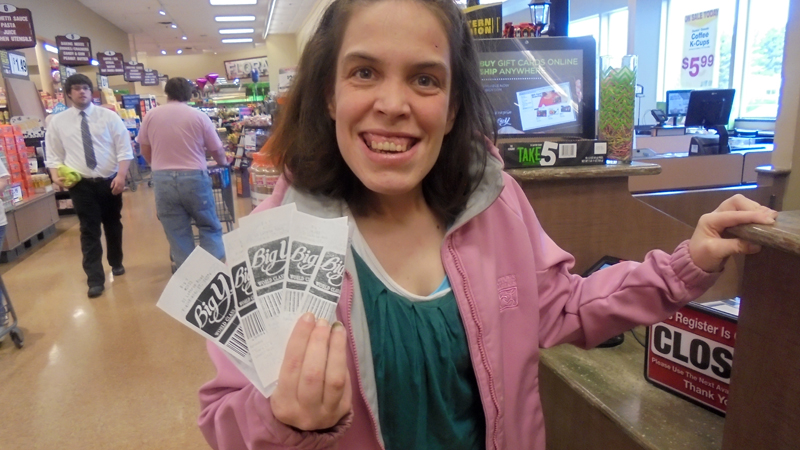 Jessica is "Going Green" For Fun and Profit
By Sara Porcaro | April 26, 2017
Recycling is a green activity environmentally, but it can also be green economically -- and Jessica Zettl is making use of both aspects. Jessica, who receives support from Perspectives' Adult Residential Services, is joined by staff member Daniel Schiappa each Tuesday morning to collect recyclables. With a beaming smile, she takes them from various members of Perspectives Corporation, such as other staff members, program nurses, and program managers, as well as Daniel's parents. Once collected, they bring everything all the way to the C&D Redemption Center in Rehoboth, Massachusetts, where she exchanges her collected cans for cash.

The money Jessica collects from recycling goes towards her spring and summertime activities, such as trips to Boston, aquariums, and other outings, which gives her the motivation to work hard each week -- both in her recycling business and in her courier jobs, which she does on Monday, Tuesday, and Thursday to help program managers collect Perspectives documents for the week. This summer, the plan is to take an adventure to Block Island.

"It's fun for her," says Daniel. "She's motivated to earn extra cash for outings, and she enjoys her day." He also notes that she's "a very hard worker and wants to do her best."

Her hard-working spirit doesn't rest once the job is over, though -- while she enjoys playing games and decorating her bright bedroom with her favorite characters, such as Spongebob, she also enjoys keeping spaces clean and neat.

Jessica is truly a motivated individual, one who takes pride and pleasure in work that not only helps her take exciting trips with friends, but also benefits her environment. With her upbeat attitude and dedication to her work, it's clear that her days are as happy as she is, and that she doesn't let one moment go to waste.

---
---